Are you a math buff? My late husband's brother is a mathematics professor, and he sent me a cool link with which to upload photos to distort and reflect them. Are you still looking for an interesting graphic for your site? Check out this website; it will furnish you with fun artworks for your blogs or social networking sites. All you need is one photo and your mobile phone. You will get a free jpg download of your finished artwork. These are the steps you have to go through to create hyperbolic tilings of your images, even if you're not a math whiz and don't understand all the calculations behind it (I surely don't; I just let the computer do its thing):
Choose a photo from your computer or cell phone and upload it.
To pick a hyperbolic polygon with "p" vertices, click on a "p."
To pick the number of hyperbolic polygons adjacent to each vertex, click on a "q."
You can move your image around by dragging it, if you want to, so you can center it according to your wishes.
Click on "generate tiling."
It takes a lot of time, but if you want a great resolution and a picture larger than what you see on the screen, click on "generate large image" (Google Chrome might crash; it's better to use Firefox when doing that).
If you want the first polygon to be "non-Euclidean," toggle through the three different options by clicking on "change the first tile" to create a Klein distortion or a polynominal distortion.
You can choose any background color you like by clicking in the "background color" box and picking one from the prism. I chose black for the two pictures of my son.
In the following, I will show you all the possibilities for "p" and "q" for a normal photo without distortion. You can choose between the numbers 3-7 for "p" and for "q," but not all combinations work. My clear favorites were 7 for "p" and 3 for "q" (the more realistic version, which is the third to the last below), and 3 for "p" and 7 for "q" (the crazier version, which is the first below with the most geometrical pattern). From now on, I'm choosing white as background color.
Now that you've seen all the possible combinations, I will show you what my favorites from the two categories, 7 "p" and 3 "q" and 3 "p" and 7 "q," look like with different photos. I did not just take my IUGR boy as model, but also our pets, so you can see that it works really well with animals, too. I tried to leave the photos as realistic as possible by displaying the whole faces and shapes, not just excerpts (but if you do that, you get even more artistic results).
Here is our cute kitten Frankie:
Here is our sweet, little puppy Sally:
Here is our beautiful Chocolate Lab, Honey:
Here is our stray cat, Felix:
Here is our bearded dragon, Hugotte:
Here are some of our leopard geckos:
Here are two of our African Fat Tailed Geckos (AFTs):
Here are some of our crested geckos: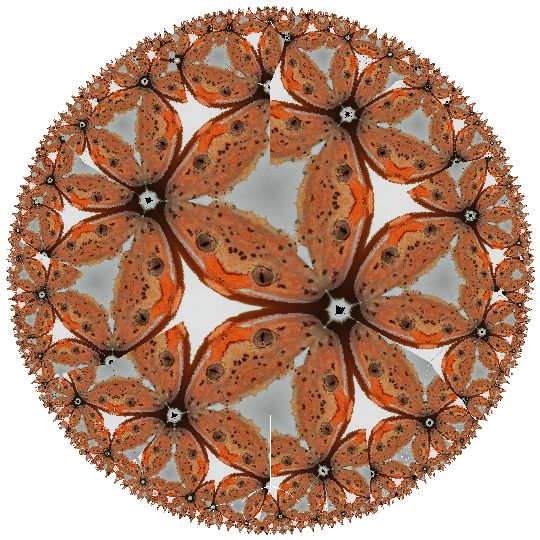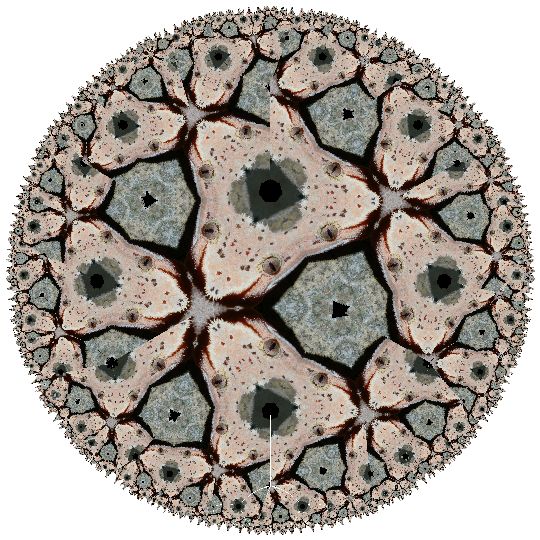 Here are both of our mossy leaf-tailed geckos:
Here is our hybrid (crested gecko x cahoua gecko):
Here is our cahoua gecko:
Here are some of our gargoyle geckos:
Here are some fish from our aquariums (koi angel fish, oscars ("Ossi & Wessi"), albino shark, and rainbow shark):
Here are some birds from our yard:
Here are some butterflies: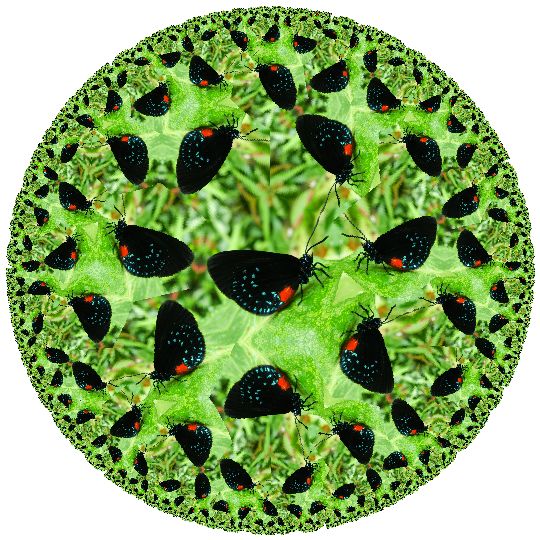 And finally, here is a snake from our yard:
So, which one was your favorite? I hope you had some fun with it and are enticed to try it out for yourself 😉 Just snap a quick picture of your sleeping baby or your pet, and let's see if your pictures turn out way cooler than mine. It's also interesting to see how letters are reflected, so if you have something written or a printed t-shirt, go ahead and make a hyperbolic tiling of it. I think those round emblems could be used for printing on cards or t-shirts, and they would surely make nice gifts. And if you still don't have enough with those hyperbolic tiles, why don't you try out fractals of images: http://www.malinc.se/m/ImageFractals.php