Hi mommies,
Here, you will find stories from our day-to-day life with a toddler. If you're looking for ideas for things to do or destinations to go, you're in the right place. We talk about our games outside, our trips, our arts and crafts, or solo or group play activities, our Montessori toys, etc.
What's it like to…
---
… Play Outdoors With a Toddler?
Montessori education values outdoor play and exposure to plants and animals. We often take trips into the forest, where Lyons Cub can play with wooden tents, collect rocks, acorns, chestnuts, and other kids of seeds, and listen to birds (and even to parrots, which once were released and have since multiplied there in a certain region). He observes insects in their natural habitat. Occasionally, we visit the horses, donkeys, goats, geese, ducks, and chickens. Watch Lyons Cub explore the outdoors here.
---
… Play on Climbing Towers with your Toddler?
Lyons Cub's uncle built this awesome climbing tower with a house, complete with window and door and slide, for his own kids, but now that they are too big for it, my son enjoys climbing up and down the ladder, looking over the railing, and sliding down, just to start the process anew. He's training his gross motor skills (while mommy is trying to overcome her anxiety that he might fall and hurt himself).
---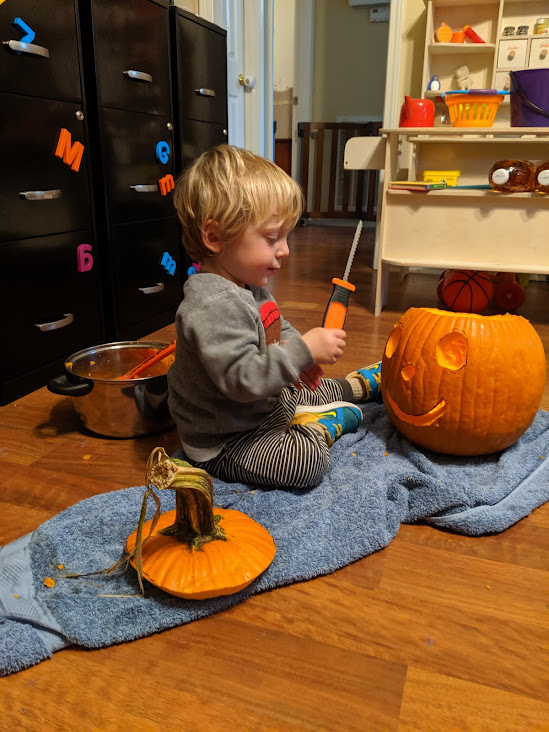 … Carve a Pumpkin With Your Toddler?
Watch those knives… but otherwise, let your tot have fun helping to carve a pumpkin! How big his eyes will be when he sees the inner life of the pumpkin–Lyons Cub was astonished by the smooth seeds and the slimy stuff. We drew the face on with a marker, and mommy cut the shapes out and guided his little hand. He liked to take the lid off and put it back on. Our pumpkin had a happy face. But we went around the neighborhood and also looked at all those scary pumpkins on the doorsteps. And the reward for the work is a tasty, hot, cinnamon-flavored pumpkin soup!
---
… Disguise for Halloween With Your Toddler?
Germans love to celebrate "Fasching" or "Karneval" exactly 49 days before Easter Sunday. Thus, we actually have a second day besides Halloween that we get to wear disguises! On Halloween 2020, at school, all teachers had to come in disguise that day (and all German teachers were witches). This was Lyons Cub's third time to disguise himself, and he was Gecko Boy from PJ Masks (the first time was Halloween 2018 in Clarksville, TN, where he was a little dragon. For Halloween 2019, he got a policeman's uniform and whistle, but it didn't fit him yet). Wonder what he will be for Halloween 2021…
---
… Build a Snowman With Your Toddler?
Winter is there with a fresh, white sheet for making snow angels and snow men, women, and animals? Get out those warm stockings, water-proof clothes, gloves, and boots and let your creativity run free… and your toddler, too! Find your sleds stored away in the basement, dust them off, and get them ready for a race down the hill. Afterwards, come inside the warm house, put on your cozy socks, and drink a hot chocolate with your children. Every season is beautiful, and winter has red cheeks, snow crystals in the hair, visible breath, and the wonderful anticipation of baking cinnamon cookies, assembling gingerbread witch's houses, and decorating the Christmas tree. Enjoy the white pureness while it lasts…
---
…. Go to the Splash Park with Your Toddler?
Admittedly, one of the first times we went to the splash park, Lyons Cub caught a bug and was sick for a couple of days afterwards, but it was among our favorite summer outings when he was between 1-2 years old. It definitely strengthened his immune system. Do you have a tot who loves the water? Lyons Cub is fearless. He ran right through the sprinklers. It was a good activity for a tot who cannot swim yet, and a mom who was too anxious to try deeper water than just covering the feet. Every few minutes, the sprinklers all shut down for a while, and he figured out quickly that you could run to a yellow column and beat on its top to make the water come on again.
---
… Have a 1st Birthday Cake-Smashing Party?
Is your heartbeat's first birthday coming up? Have you looked at all the lovely Pinterest ideas for themed cake-smashing photo sessions yet? Lyons Cub went to our local photographer, Daphne Treadway in Clarksville, TN for his cake-smashing party, and we got great memories out of it that we will admire for the years to come.
---
… Feed Chickens With a Toddler?
His aunty's hens like currants! Lyons Cub was busy picking the tiny, red berries and throwing them through the wire fence. Most of the time, they fell down close to the fence, so that the chickens couldn't reach them. However, he learned to throw them further into the cage. It was an excitement for him to go inside their enclosure to peek into the hay of their coop and collect the eggs. Some were greenish, some white, and some brown. He also got to collect old bread, dry it, and crumble it to bring to the chickens as a gift. Feeding animals is such a wonderful, gentle, and caring activity for a toddler who is learning to respect and love animals!
---
… Watch Horses & Donkeys With a Toddler?
Especially for city children, it is important to see their animal friends not just in books and on the screen, but also in nature. We used to take extended hikes, with Lyons Cub in his little, blue car or on his tricycle, and the destination was a field with horses and donkeys, so he could confront possible fears and learn to appreciate bigger domestic animals. Can't wait till he gets his first riding lesson…
---
… Go to the Zoo with a Toddler?
When Lyons Cub was one and a half years old, he went to the Nashville zoo for the first time. Here, he was admiring the feeding of the tortoises. It was a great exercise to introduce him to animals, their sounds, their food, their smells, and their habitats, and also to widen his vocabulary.
---
… Visit an Aquarium With a Toddler?
On our 2019 trip to Germany during the summer break, Lyons Cub got to visit the Aqua Zoo in Duesseldorf. Although he slept through some of it, he saw exciting, huge fish and tiny, colorful fish, alligators, and all kinds of other creatures. He had fish at home in our fish tank, and he was used to helping to feed them already. Fish are a good entry-level pet to teach responsibility regarding maintenance, feeding, and cleaning, and can provide lots of teachable moments when it comes to having babies and rearing them…
---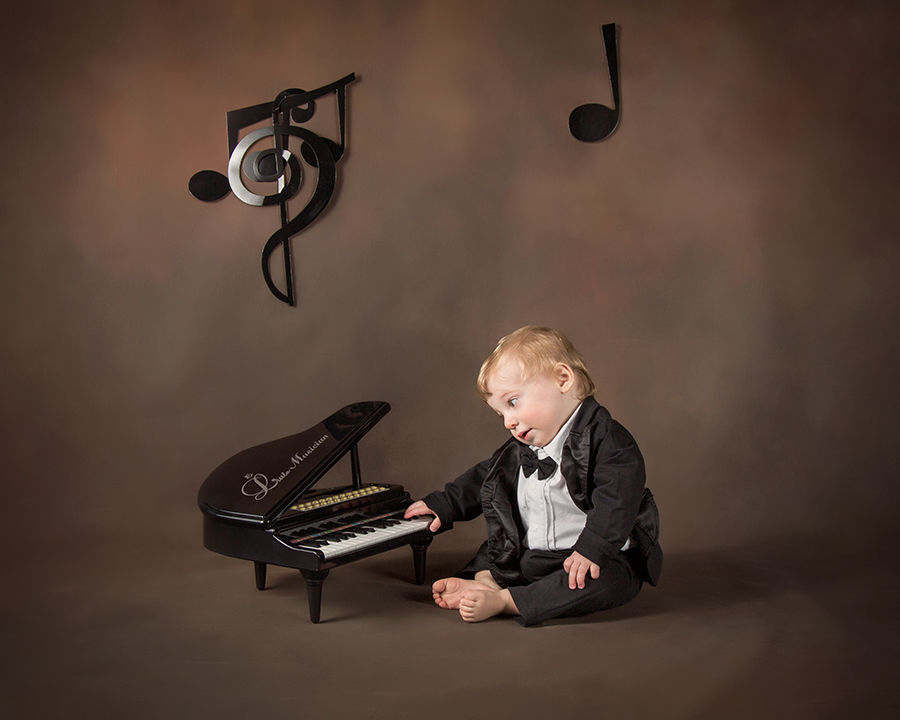 … Raise Your Child With Classical Music?
Whether or not you believe listening to music makes your child smarter and creates new connections in the brain or not — emotionally and culturally, raising a child with classical music is a wonderful thing. Lyons Cub's daddy was a professional pianist (and mommy got to know him when he performed her children's song compositions), so it kind of lies in the family.
---
… Baptize Your Baby?
The biggest celebration in Lyons Cub's life so far, except for his birth, of course, was his baptism at half a year of age. We traveled to Europe for that occasion, so my relatives could participate. Since he was so small, he looked like a newborn. Three babies were baptized in the Catholic church that day; the other two were nice and quiet, and mine screamed like crazy until the water hit his head, which he loved!
---
… Potty Train Your Toddler?
For us, it isn't an easy road. Lyons Cub was almost potty trained at 2 years of age, because his Montessori kindergarten insisted on using the potty and wearing training pants, not diapers. However, when we moved and switched to daycare, they didn't even put him in the pull-ups I had provided, but my son got home wearing another child's baby diapers! He was 3.5 years old! So no matter what I tried at home, as long as it was not enforced during his kindergarten time, there is no progress, just regress. But this summer break, he will go without in the back yard and wear only underpants (I have the slight hope that his Paw Patrol underpants will be more enticing than the black ones…).
---
… Get Your Baby a Haircut?
Lyons Cub loves the hairdresser, especially when he's allowed to hold the big broom afterwards, sweep up his own cut hair, and put it in the machine that "eats it." How exciting! He doesn't really hold still, so if you need some mom hacks how to keep your baby or toddler more quiet at the hairdresser's, read on… After all, you wouldn't want a crooked haircut, or your babe to get pierced by the scissors because he or she is moving around so much. What can mommies do to make it easier for little, impatient kiddos and those who are afraid of the scissors and the razor? Although sometimes, you're really lucky and get a hair stylist who's really good with little kids, like ours in Hopkinsville…
---
… Do Pretend-Play on the Mall's Ride-On Cars?
What can one do on a rainy, stormy day during the pandemic to keep toddler entertained? We went to the Mall, which was relatively empty. Lyons Cub got to ride on the ride-on machines for the first time since Corona struck. Now that the summer break has started and most kids are on vacations, he was the only child wanting to take a ride, so he got to ride on an ice-cream truck (his favorite) and sell invisible ice-cream, a Bob the Builder digger, and a minion spaceship. He had a blast, mommy got her shopping done, he got a haircut in between, and everyone was happy while the necessary things for the day got done. That's a win-win!
---
… Bake With a Toddler?
Come and see for yourself… Your kiddo might not make as much mess as mine and may still have as much fun! Get out some measuring spoons, measuring cups, flour, sugar, eggs, pots, a mixer, and whatever you want your toddler to experiment with. If you have a lot of counter space (we had practically zero), you could invest in a learning tower. We actually got one, but worked mostly on the kitchen floor, because Lyons Cub could not stand still, and I didn't want him to fall off the tower. Also, he would inevitably drop things. Once he was on the floor, I thought at least he and his utensils cannot fall down anymore 😉 Witness the wonder of baking brownies and chocolate muffins… (and the not so wonderful clean-up at the end)!
---
… Go to the Funfair With a Toddler?
When the carnival is in town, you might want to introduce your tot to fast rides 😉 Lyons Cub loved riding the merry-go-round. Haven't we all done that as kids? Be honest. I remember begging our daddy, "Just one more ride!" Now, my own child is begging, and of course, I'm giving in until I run out of coins. After all, such an event happens how often, once a year? Make the best of this opportunity.
---