Disclosure: Some of the links below are affiliate links. This means that, at zero cost to you, I will earn an affiliate commission if you click through the link and finalize a purchase.
What's it like to go to the Hugodrom in Remscheid? Well, it's like a huge, empty hall with toys and attractions in it. There was only ONE other child my son's age there when we came, one 1-year-old, and one newborn. That was it. We had the whole place to ourselves! It's not the first indoor playground we've been to, but it's the only one that is a lot of fun for the parents, too, because in the Hugodrom, they can ride scooters, skates, and also buy all those kinds of sports gear items one has just tried out in the store in the front part of the building.
Wow, it was so quiet, since nobody was there playing but us 😉 We arrived in the Christmas week when school was still not out, so all the school-aged kids were in school. Since there was so much space available, we were free to race around on scooters and skates. Mommy really enjoyed this one! For Lyons Cub, it must have been more boring than those crowded indoor playgrounds stuffed with noisy children, because he couldn't strike any friendships. We've been to GeckoFun in Burscheid, Hoplop in Cologne, Okidoki in Langenfeld, Trampolino in Hilden, and Tiki Kinderland in Solingen already. They were always so crowded that it was hard to hear what one's child was saying, and they smelled like sweaty socks and wet hair. They were also full of dropped food and messy, left-over birthday party arrangements.
Not so here. Maybe we were just lucky, because on busy days, I'm sure it's like the other places we frequented (and that's how the kids like it, anyway, but in those germ-spreading winter days, I prefer to be alone in there with my child, actually). It was exceptionally clean. This includes the restrooms.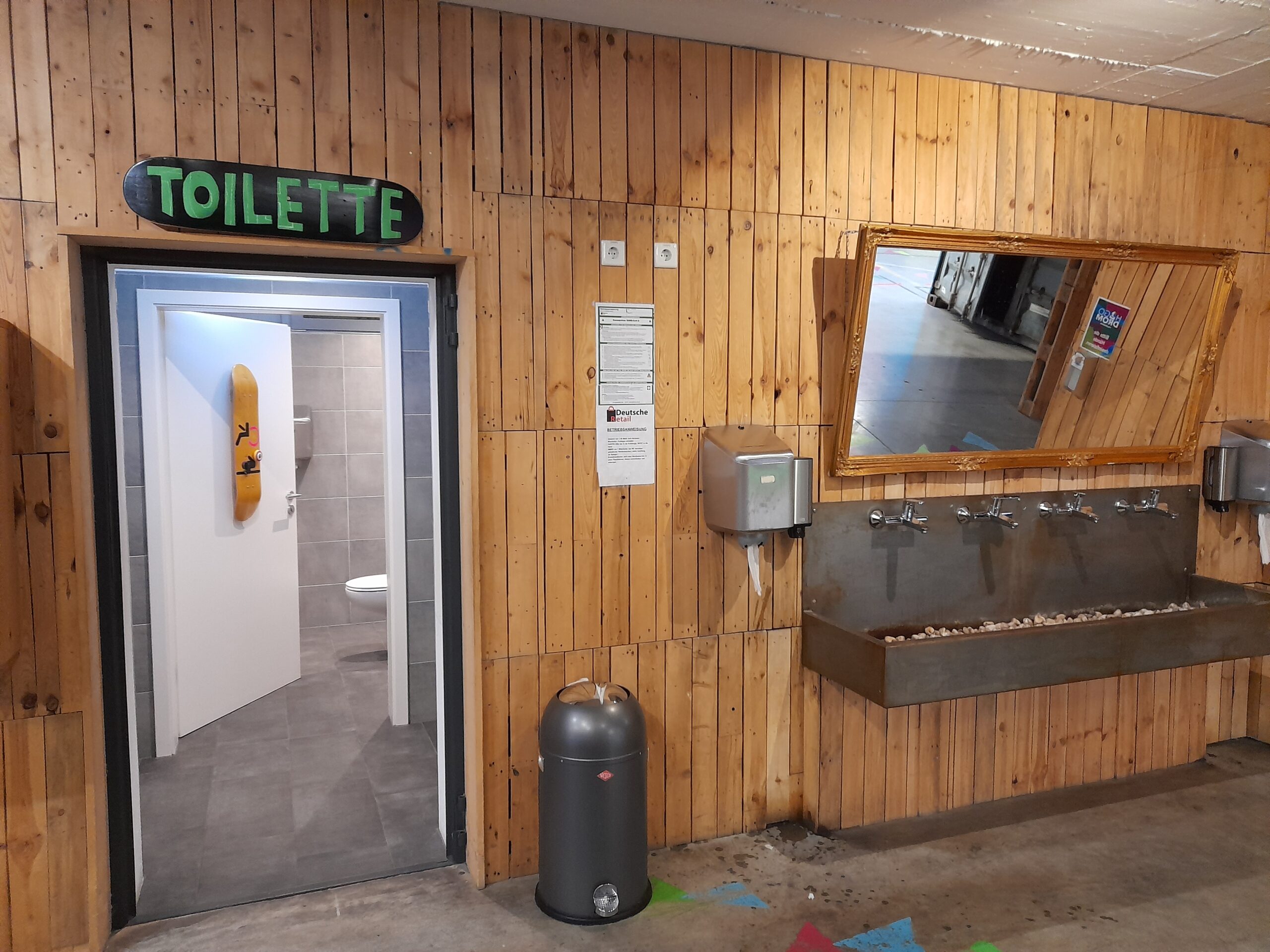 We had looked at the place on the Internet first, and my son fell in love with the Spiderman jumping castle, so that's where he ran first.
What none of the other five indoor playgrounds we know so far have to offer is a big climbing wall. This was one of the main attractions here at the Hugodrom. Fearlessly, my son started climbing. As a mommy, I was appalled that the kids weren't secured by ropes. Anyway, when Lyons Cub got too high to jump down, I lifted him off. He had lots of fun!
There were only three trampolines, not enough for a horde of children if only one person is allowed to jump at a time. But since we had no competition, my son tried them all out, and there was nobody lining up to take his place. Awesome!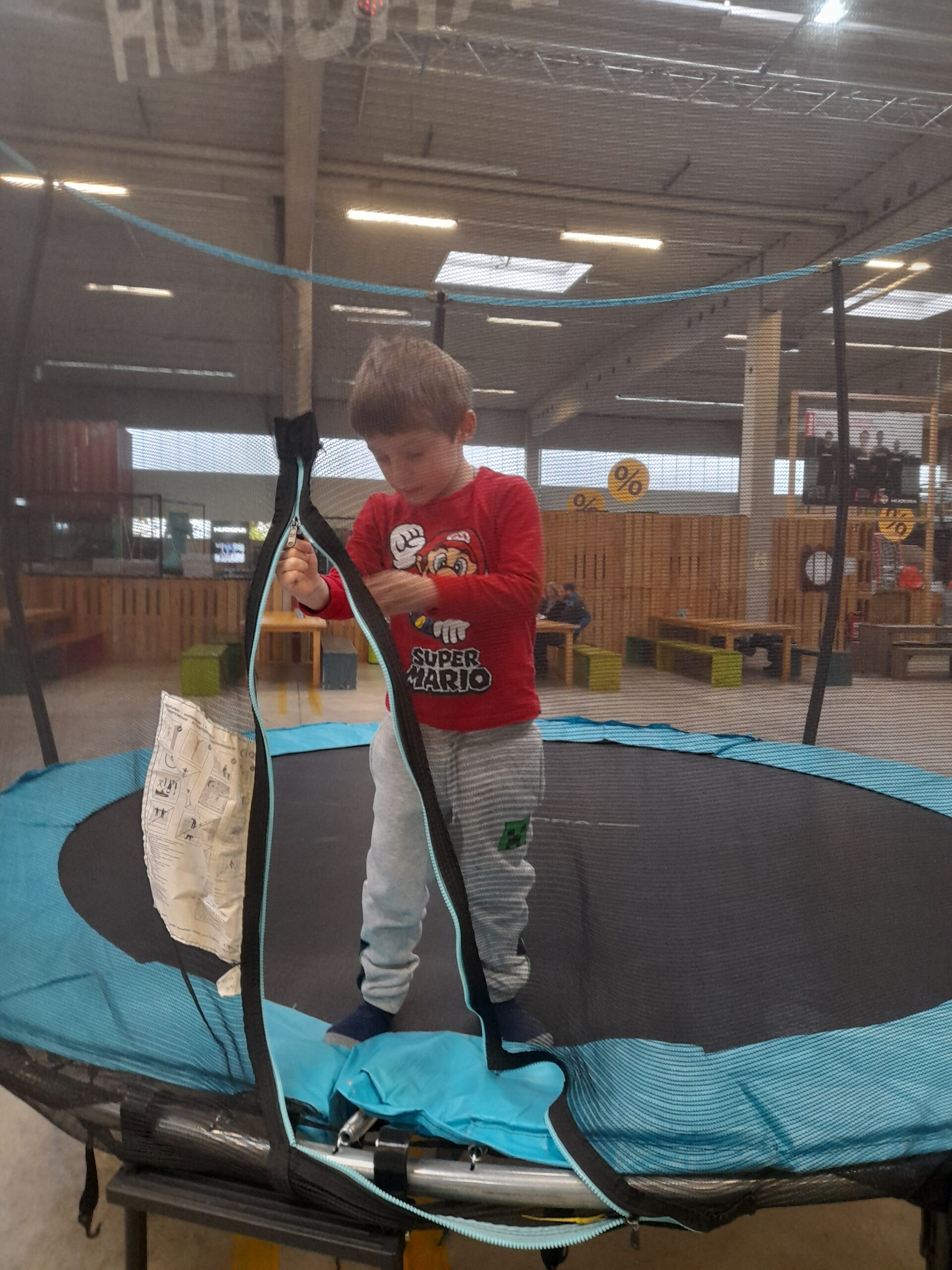 We had arrived at 12 p.m. just as they opened, so for lunch, we ordered freshly baked pretzels and soda.
Then, we tried out the twistball game. Mommy had no idea that you play it with two people, so Lyons Cub tried it alone first. Sometimes, the line wrapped itself around the pole or around my son's racket. At other times, the tennis ball tried to knock him out. Later, we played together. It wasn't that thrilling, though. And it cannot be done with lots of kids.
In addition to twistball, there was a ball pit with huge, and I mean HUGE rubber balls. We built a fort out of them that tumbled each time my son climbed in or out. It was fun!
Apart from the huge rubber balls, there were also soccer balls and a huge field we had to ourselves:
Of course, it would have been more fun to play soccer with other kids.
There was also a "dance bar" where two children next to one another could dance by stepping on spots on the ground when the computer screen in front of them showed arrows to the right, left, front, or back. One can see in the video that my son had no clue he had to follow the arrows on the screen; he just danced according to his own taste. By contrast, the older girl next to him scored quite a lot of points. Mommy tried it, too, and did quite well, but got terribly winded 😉
Again, only two spots to dance wouldn't satisfy a big crowd of children. But for days like today, it was optimal.
And below are my son's first rounds with a scooter (that is, all by himself; two years ago, he already stood on a scooter pushed by grandma, but he never rode alone). It's about time for an almost five-year-old to learn it 😉
To conclude, the Hugodrom in Remscheid is a great indoor playground to go to when it's not busy. Otherwise, your child won't get a good workout, because he/she will have to stand in line and share the few activities with other kids. There's simply not very much to do. Since there are no climbing castles and no high rope courses, older kids might lose interest soon (after all, they can also roller skate and use their scooters at home). For my son, it was cool, since he doesn't own a scooter – yet… Guess what he wants for his birthday next month (and it has to be exactly the one he used, the orange one from HUDORA with the black skull on it)?