Disclosure: Some of the links below are affiliate links. This means that, at zero cost to you, I will earn an affiliate commission if you click through the link and finalize a purchase.
The Christmas Market in Monheim, which you can reach in ten minutes by foot from the Nature Adventure Trail and the splash pad with the playground near the Rhine River, has lots of attractions for young and old, like lots of booths with hand-crafted items, Christmas tree decorations, bees wax candles, knitted winter stockings, or food,
a merry-go-round that makes little children happy,
a snowman walking around on stilts and giving high-fives to the kiddos,
but the highlight is definitely the ice-skating rink. For EUR 2.00, you can rent a pair of orange skates, and the helmet is a free addition. There are lockers for your bags and valuables, and off you go onto the rink. If your small child has never stood on skates before, he/she can sit on a comfy seal sleigh that is being pushed by older siblings or parents/grandparents on the tail fin. Yay!!! We went really fast into the curves.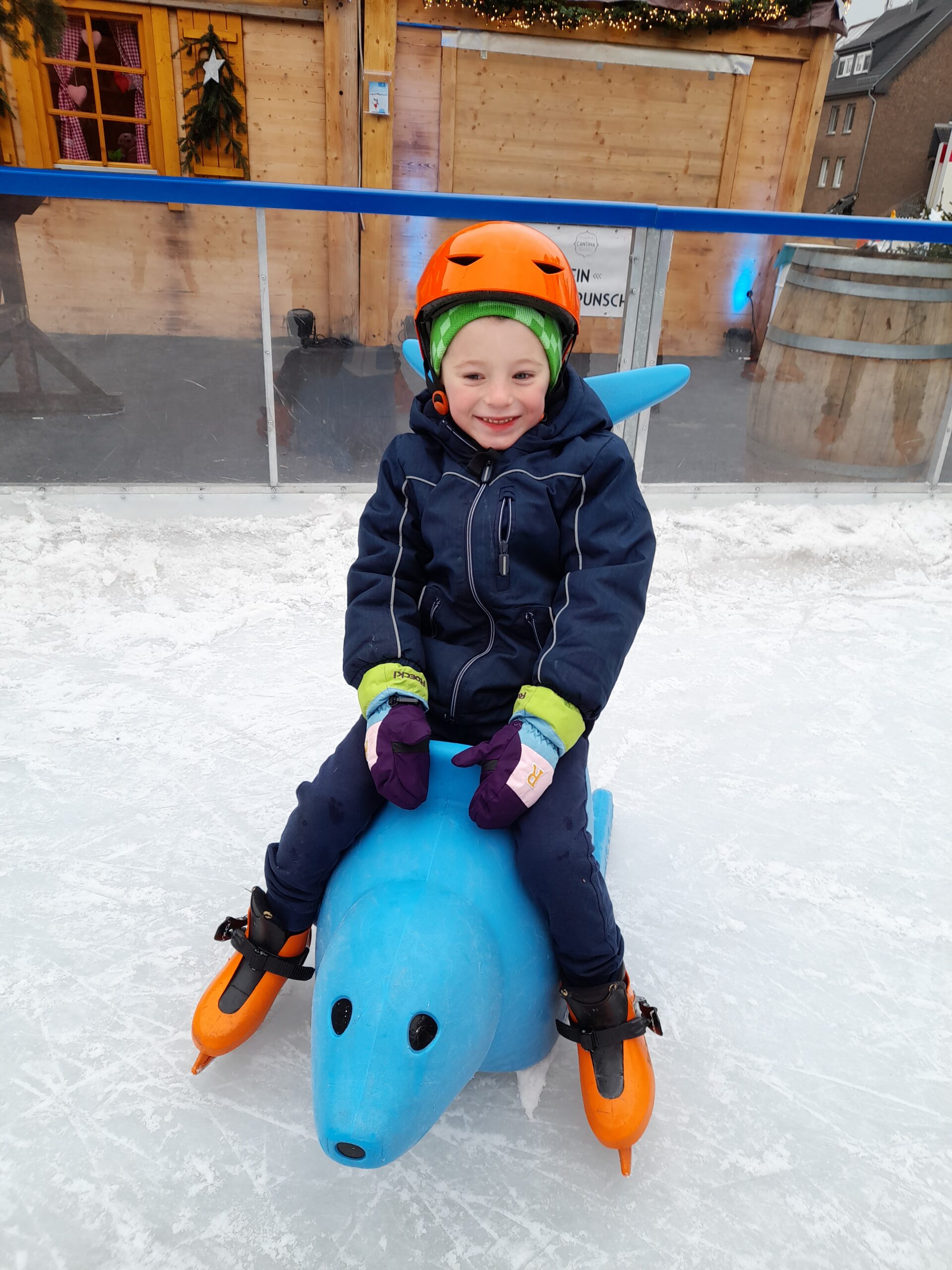 Since we arrived around 11 a.m., the rink wasn't that crowded yet. We left around noon, when there were more people who could bump into us. Lyons Cub has never been ice-skating before, although he started roller skating at 1.5 years old. He found out that it's a completely different thing on the slippery ice 😉
At first, Lyons Cub walked carefully along the railing. Then, he sat on the seal sleigh and was just sledding while mommy pushed. Later on, he was behind the sled pushing it himself. With a little practice, he will learn it quickly. He loves the Peppa Pig episode of George ice-skating like a pro for the first time! While Lyons Cub wasn't a talent like that, we'll most likely buy him his own skates and will go to skating rinks more often in the future…
After skating, we were a bit cold, so he had the great idea to go into a bakery, order some fresh and delicious rolls and hot chocolate, and sit down in front of a big window near the warm radiator, watching the hustle and bustle outside. It was a nice day! (Sorry for the bad hair; it's a result of wearing a warm wool cap.)