Disclosure: Some of the links below are affiliate links. This means that, at zero cost to you, I will earn an affiliate commission if you click through the link and finalize a purchase. [No worries, nobody will buy this!!]
What's it like to grow a Hatch'em Dinosaur Egg?
Ehem, this is the first negative review I'm writing about a toy that Lyons Cub got, but it was so ugly it was cool for Halloween again 😉 As you can tell from my son's disappointed face on the photo, he was not exactly thrilled by the way his wobbly, squid-and-rhino-like dinosaur looked, but at least it was a suspenseful three days until it hatched.
We had been to the Duisburg Zoo, and when we left, he was allowed to pick one "animal" from the zoo shop. I assumed he would pick a big, plastic crocodile or a plushy koala, but he picked this "Hatch'em" dinosaur egg instead, which, in its unhatched stage, looked like a normal chicken egg. He proudly explained to the shop assistant that it said "3+" on the box, but that he was 4 already and was allowed to play with it. We took it home, read the instructions on the box, and put it into a pot full of cold water. It was supposed to hatch after 24 hours. Right from the start, air bubbles came out of a tiny hole on the top of the egg. Then, it turned sideways. Later, it set upright again. Wait for it….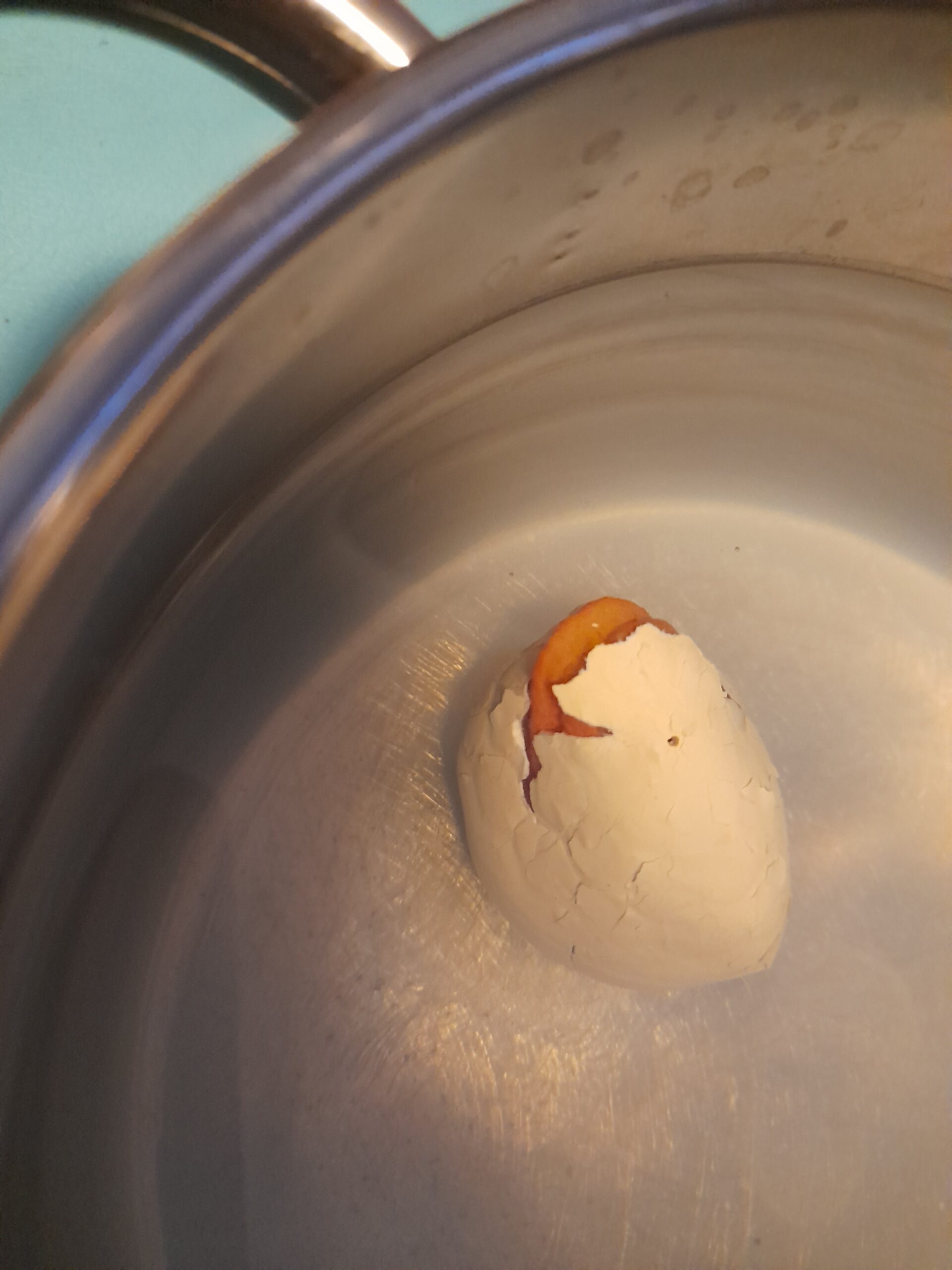 After the first night, Lyons Cub was excited to see that the shell had started cracking. Right after getting up, he ran to the pot to see whether there were any changes in his dino's birth process. The water had turned a tiny bit milky, as if chalk were dissolving in it. After the second night, the front of the egg opened slightly, and a pink nose peeked out. After the third night, the butt burst out of the other end of the egg. Then, my son couldn't wait any longer and freed his little pink monster. The shell was quite thick, and the chalky pieces flaked off.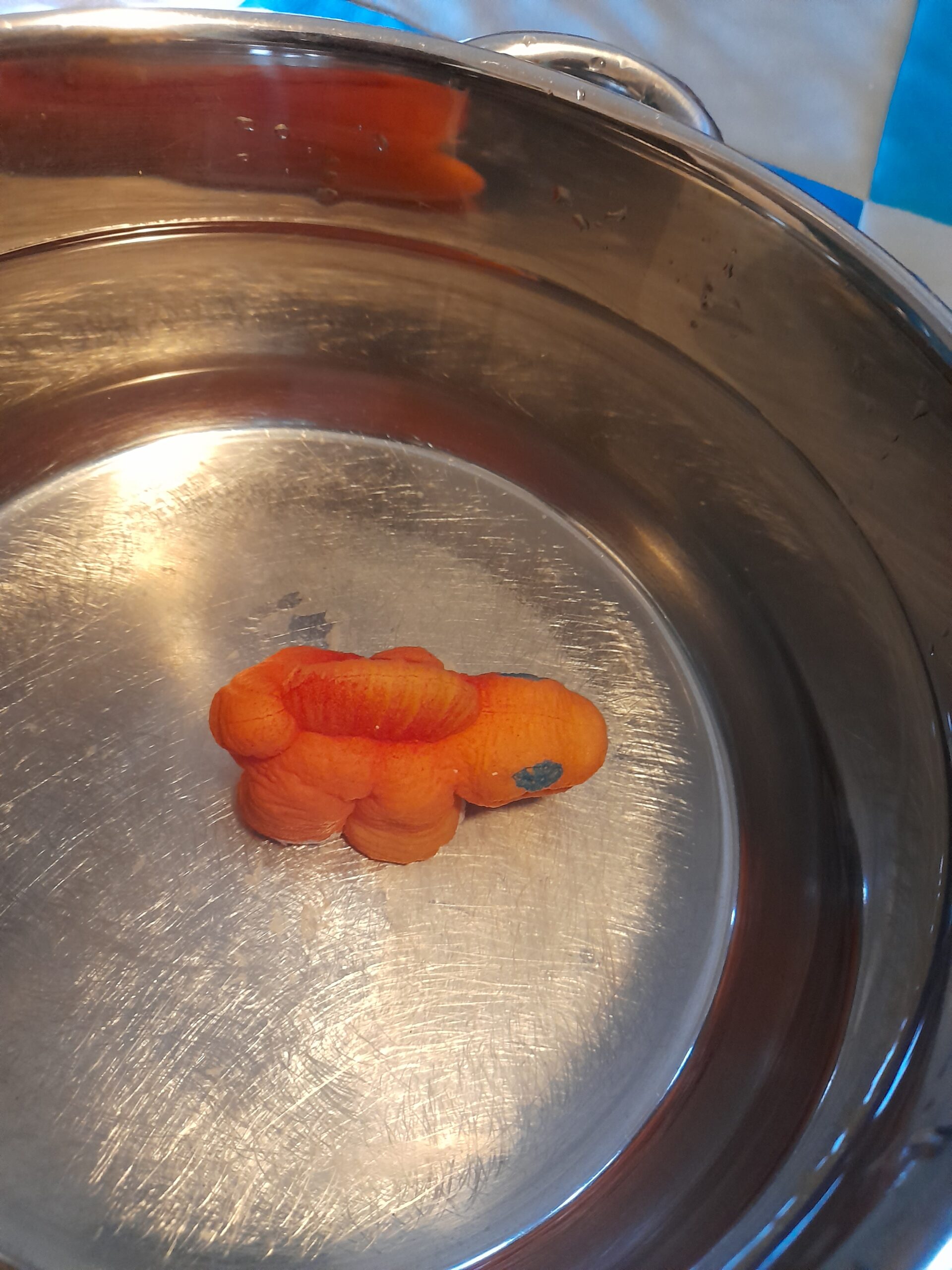 As you can see, it doesn't look that much like a dino (certainly not like the ones depicted on the box); it's a bit gruesome and fleshy, actually. He still loves it and took it with him into the bathtub 😉 He calls it "Tyro."
Haha! Little Tyro seems to be a Stegosaurus (?). At the moment, Tyro is still soaking up in his water bath to grow a bit, but I don't think he will grow much further (6 cm). It's supposed to shrink back to a tiny size when it dries out. We'll post more picture when we let this happen. When I write a review, I will give it 2/5 stars, for the suspense. One doesn't know which kind of dino will hatch. And watching the egg crack was kind of cool for my son. We might do it again, just for the fun of it, and to give Tyro a play mate for Halloween…
At least, Lyons Cub's orange dino looks much better than the dinos that hatched for other people in the Amazon reviews 😉 It reminds me a bit of those wrinkly Shar-Pei dogs. For right now, Tyro is the new bathtub attraction….