Today was Lyons Cub's third visit to an indoor playground, and this one was special! After having experienced GeckoFun in Burscheid and Hoplop in Cologne, we visited Oki Doki in Langenfeld. While GeckoFun was small and nice for parents to attend because they could watch their kids from a comfy seating area, Hoplop was huge and had an abundance of climbing attractions, where the kids could get lost for an entire day. Oki Doki was right in the middle; not too many attractions, but almost the same ones as in GeckoFun, with the big plus of a high ropes course!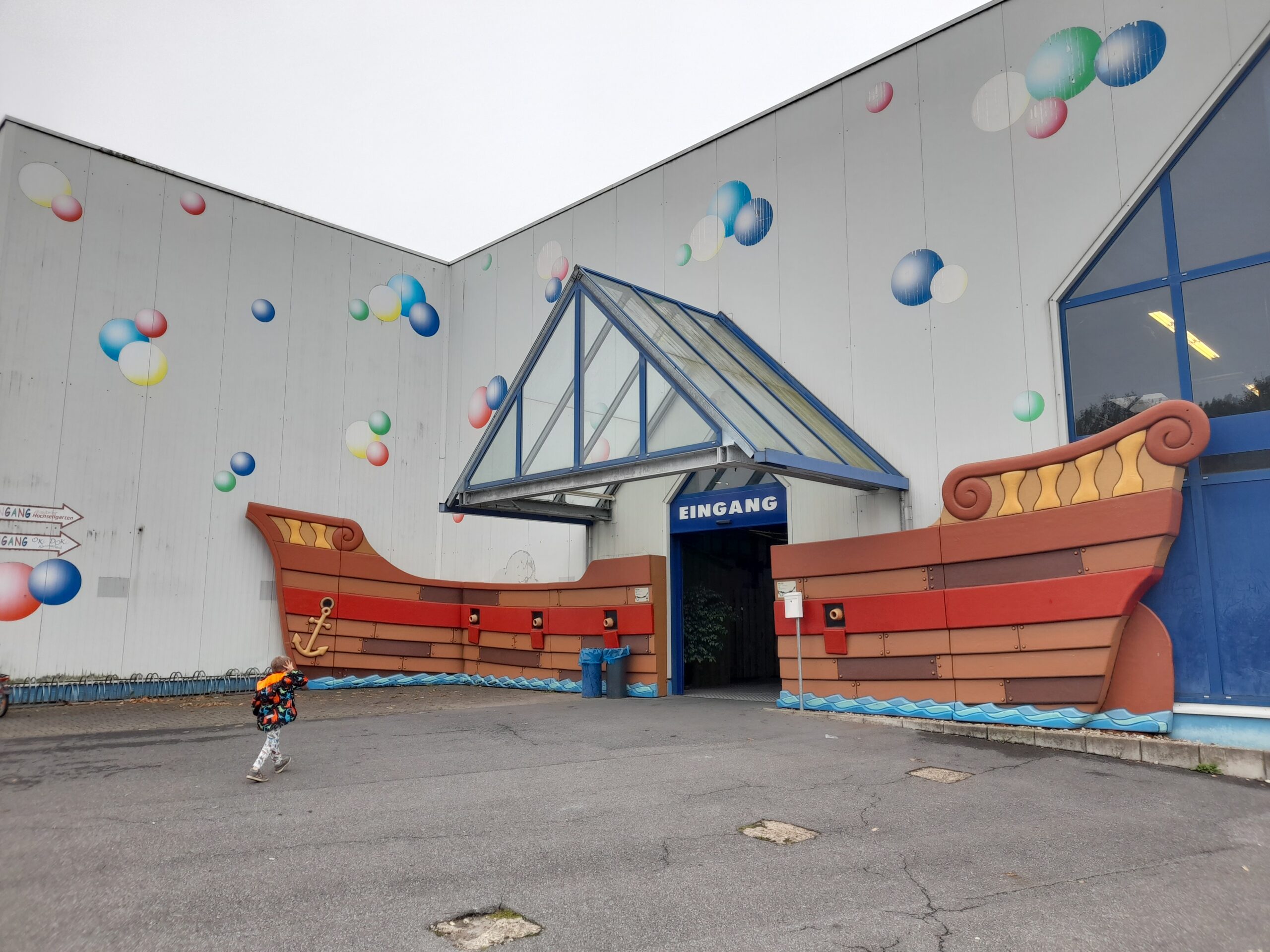 The first thing you see when you enter is a big, inflatable crocodile. It opens and closes its mouth to swallow little children, who slide out its butt: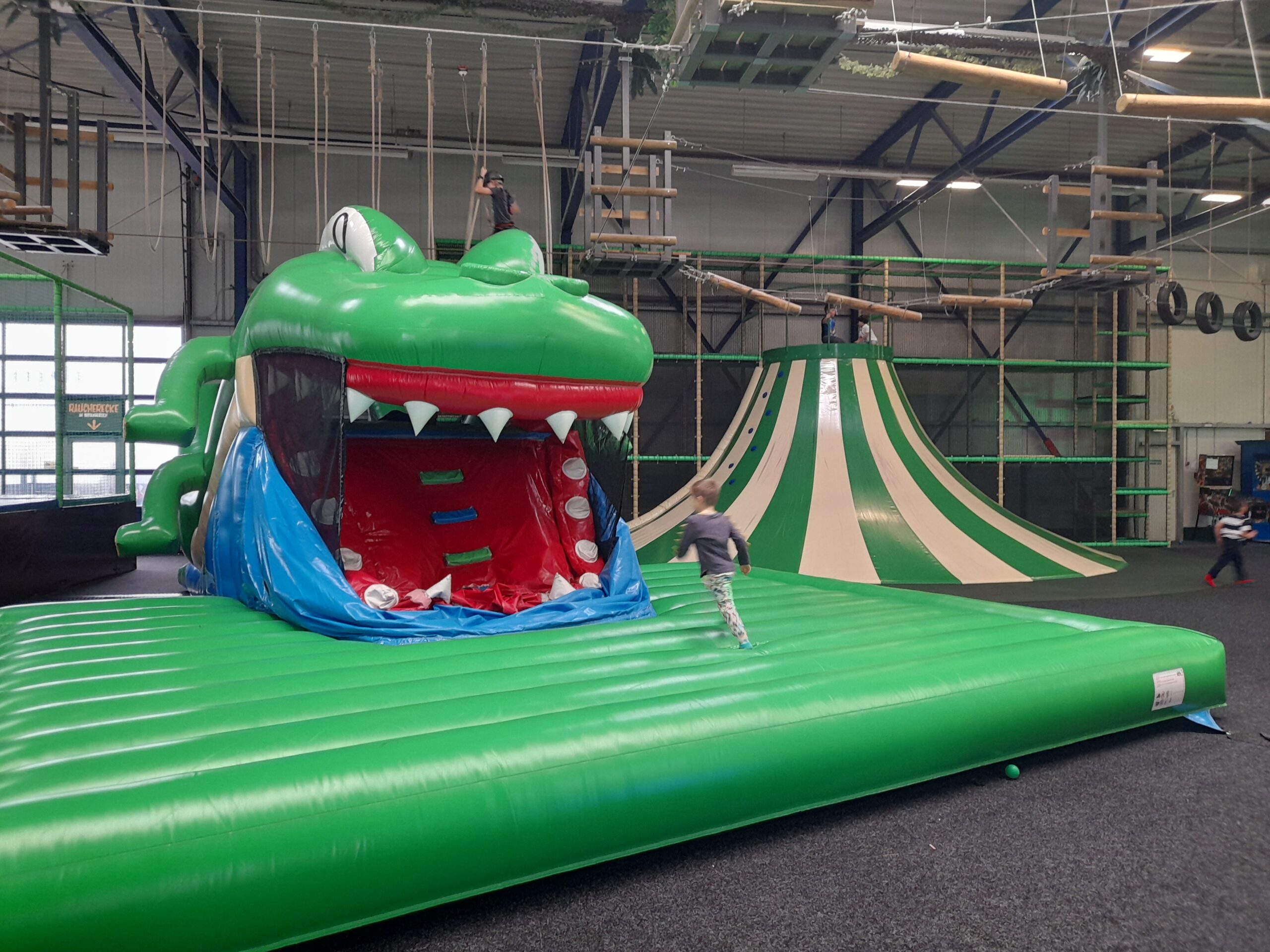 We arrived around 11 a.m., and at that time, there were about 20 kids there, so it was still quite empty, and Lyons Cub could try out all the attractions without standing in line. Around 2 p.m., that would change, and by the time we left around 5 p.m., there were approximately 200 children in there!
The Oki Doki was closed during the pandemic, and its managers used the time to modernize and update it. The carpet is new and clean, and there are no more torn climbing toys. So if you also read some old reviews like I did, be aware that this was from before the renovation. I did not see any shabby play things; everything looked great. I set up camp at one of the long tables and prepared for several hours of Internet fun, because I already knew my son would vanish… We had made a deal that he would come past our table from time to time to say hello and grab some food. Occasionally, I walked around, and when we met, we tried something out together, like playing basketball or walking on the pedal roller:
The food was good and inexpensive; we got a big plate of French fries with mayonnaise for EUR 2.70 plus taxes. We also had colorful slushies. What's best is that you're allowed to bring in your own food and drinks, to save money. You can also book a table for a birthday party.
Some reviewers had complained about the heat when using the high ropes course — well, hot air rises, and when you go climbing at 30 degrees Celsius, of course you will sweat under the roof, because Germans don't use air-conditioning as much as the Americans do. We went on a cool fall day, and it was just perfect. Lyons Cub went straight up the stairs to the high ropes course, got put in a harness, put on a helmet, and off he went on his first adventure above the heads of the kids playing on the inflatable toys.
He walked over the kitchen and climbing attractions, trying out nets, wooden beams, steps, and other fun obstacles on his path. The first time he walked the high ropes course, one of the guides walked slowly behind him, just to make sure he didn't fall or wasn't able to guide the cable along that was connected to his harness. Admittedly, for a little guy, it was difficult to pull his cable behind him around the corners, but he understood quickly how to do it. Big kudos to the young guides, who were very friendly, patient, and watched well over the youngsters!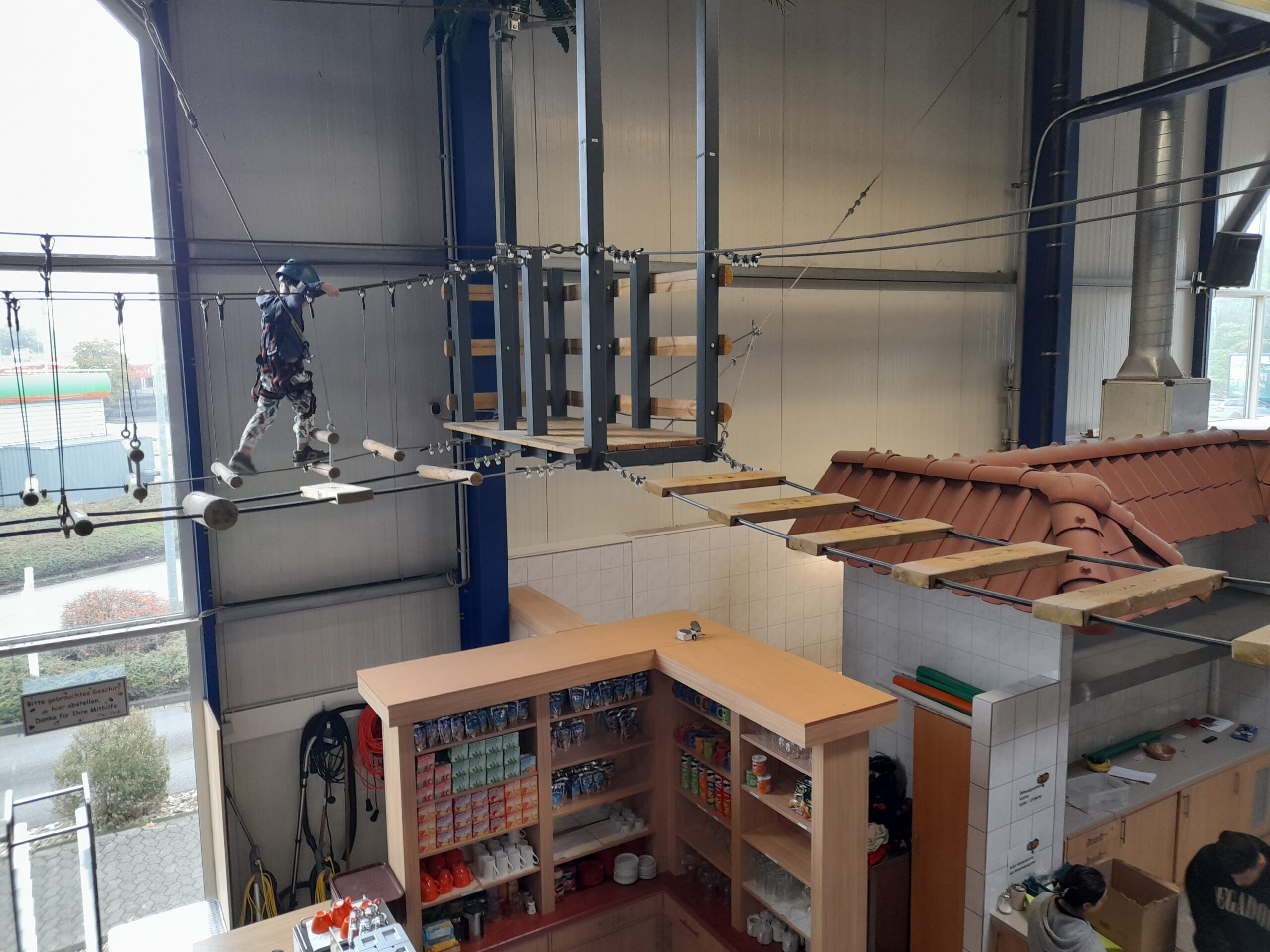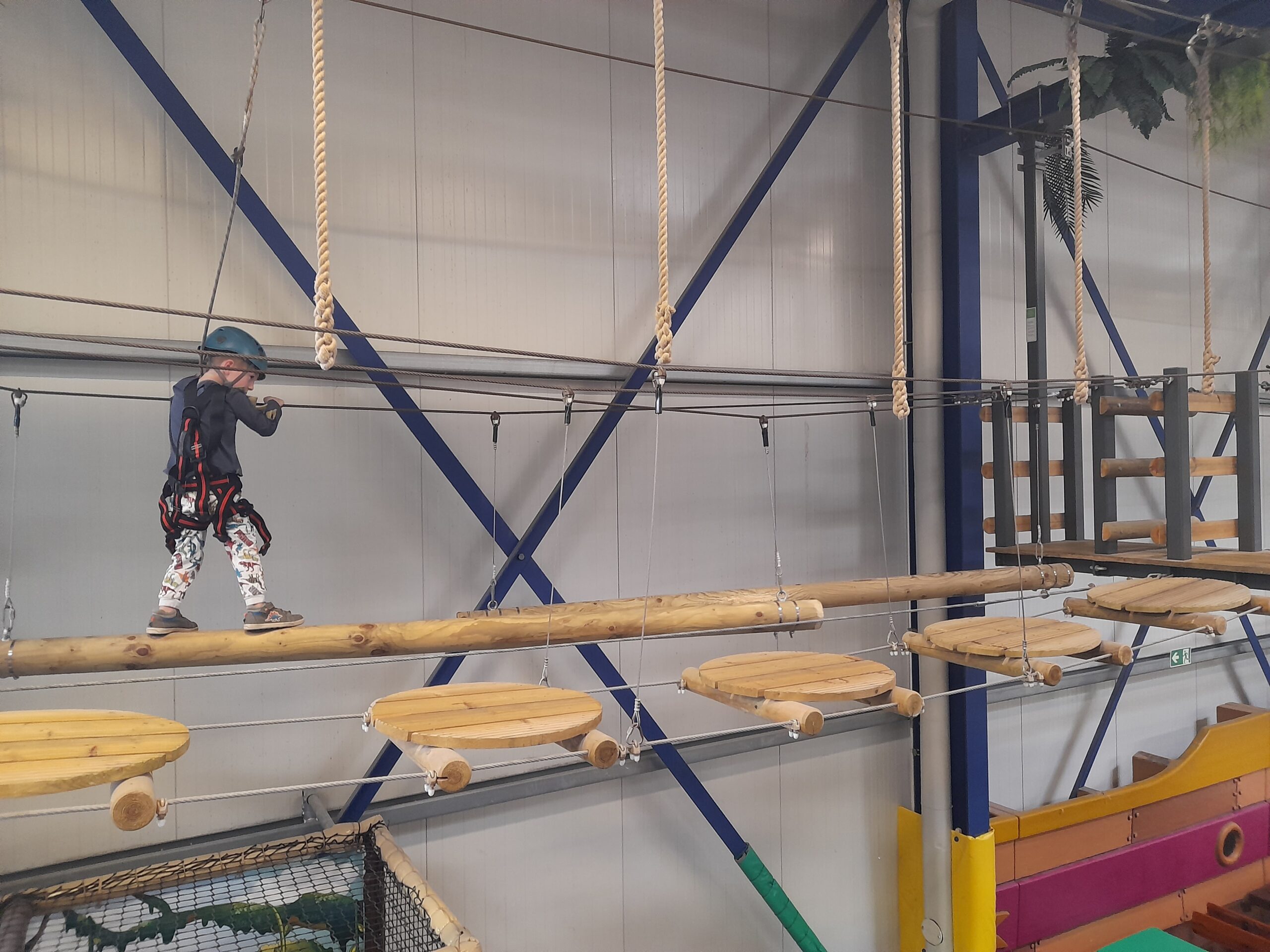 This mommy has to admit that she bought a ticket for the high ropes course for herself but didn't go 😉 After watching Lyons Cub, she got kinda scared… He wasn't, though. But he went the small kids' course — people taller than 1.30 m get to walk the course that leads all the way through the building! Well, maybe next time…
After having walked the high ropes course twice, Lyons Cub went riding go-karts. By that time, there were lots of kids standing in line, so it took a while until he had secured a ride. It also got really loud in the building! One had to shout to understand one's own child.
The children could not drive very well, obviously, so there were a lot of pile-ups, traffic jams, and crashes. Nobody got hurt, though! Each ride costs one Oki Doki coin, which one can exchange for 50 cents at the admission desk. Leander used up all four coins he had.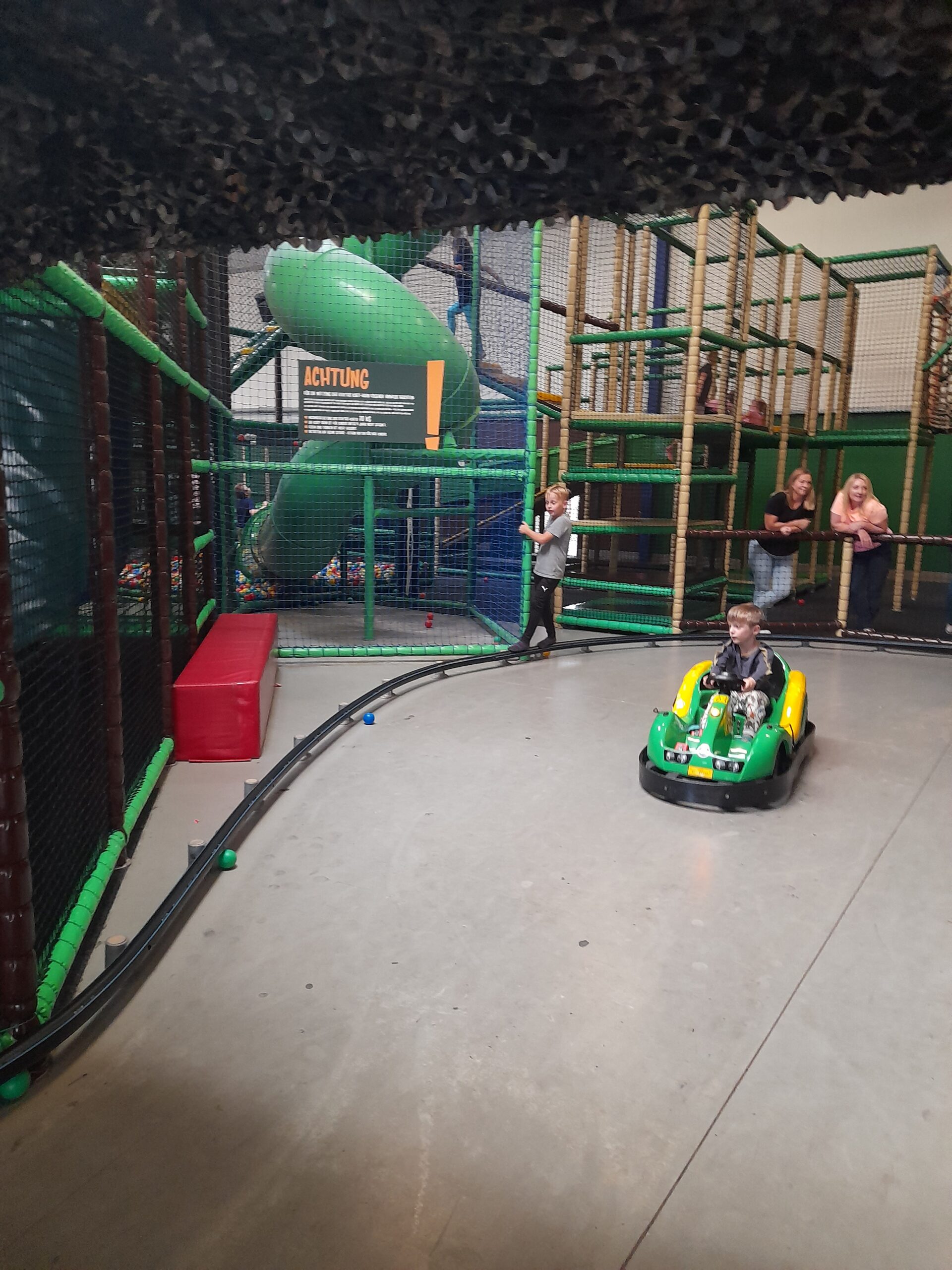 We had a little foodie break, and Lyons Cub got to throw a few coins into the vending machines. He received a glitter squish ball and two bouncy balls. He also made a friend called Ben, and each of them won a little, yellow cement truck at one of the machines. I remember all the times when my sisters and I were little and we wanted something out of a vending machine — those colorful chewing gum balls were just too attractive! But our father never let us have anything. He was very economical. Many years later, when I was walking with my hubby through a mall in Carbondale, Illinois, and I was talking too much again for his taste, we came past a chewing gum ball vending machine, and he said, "Let me buy you one of those, a really big one…." 😉
Another thing Lyons Cub had fun with was the air hockey table. He met a bigger boy who was willing to play with him. The big kid always won, alas.
Of course, there were a few tears when we finally had to leave to have coffee time at Grandma's (more like dinner time!). He had a heck of a day!