Lyons Cub loves to play outside, especially in the forest, where he can build and hide in wooden teepees, climb on tree trunks, and find all kinds of insects, such as lime hawk moth caterpillars, etc. We found a cool nature adventure park, Landschaftspark Rheinbogen, in the town of Monheim at the right side of the Rhine river. Actually, the parents of my son's new BFF, with whom we also visited Solingen Bird- and Animal Park, gave us the tip, because we had never been there before.
So what can you do in this park? We did the following things:
climb, swing, and slide on the two big playgrounds;
get drenched and find relief from the heat at the big splash park, which just opened in May;
ride go-karts (first, my son had a single-seat go cart by himself; then, we took a four-seat go-kart) to explore the vast fields;
sit on the famous, big tree swing;
go to the fun fair that happened to take place that day!
walk through some streets and look at the golden "Stolpersteine" (in memory of the Jews who had lived there before deportation, flight, or murder by the Nazis during WWII).
We got there around 11 a.m., and let's just say parking was a catastrophe, because the big parking lot was taken up by a circus tent of Circus Liberty, which we had visited a few weeks prior in a different city, and by their cars and their visitors'. We found one empty slot behind a construction site and needed to walk quite a bit until we reached the park. But that was actually good, because we came by one of the two big playgrounds, hidden under red chestnut tree blossoms, which we would not have found otherwise.
a) First Playground: The best part about this playground was the ginormous slide that went down a rope climbing tower. At first, this mommy was worried, but Lyons Cub really made it all the way up alone (he really is my big four-year-old now, and I don't have to follow him around making sure he's not falling down anymore).
b) Second Playground:
This playground had a knights' fortress with a long tube slide, as well as some climbing and balancing constructions and a ninja warrior run. Lyons Cub had fun dangling from the monkey bars, and best of all, his BFF had arrived with her little sis, and they had their PJ Masks figurines with them, so they played with them in the sand and shared them with other kids (and we parents had to find them all again when it was time to go home). And what would a playground in summer be without an ice-cream truck???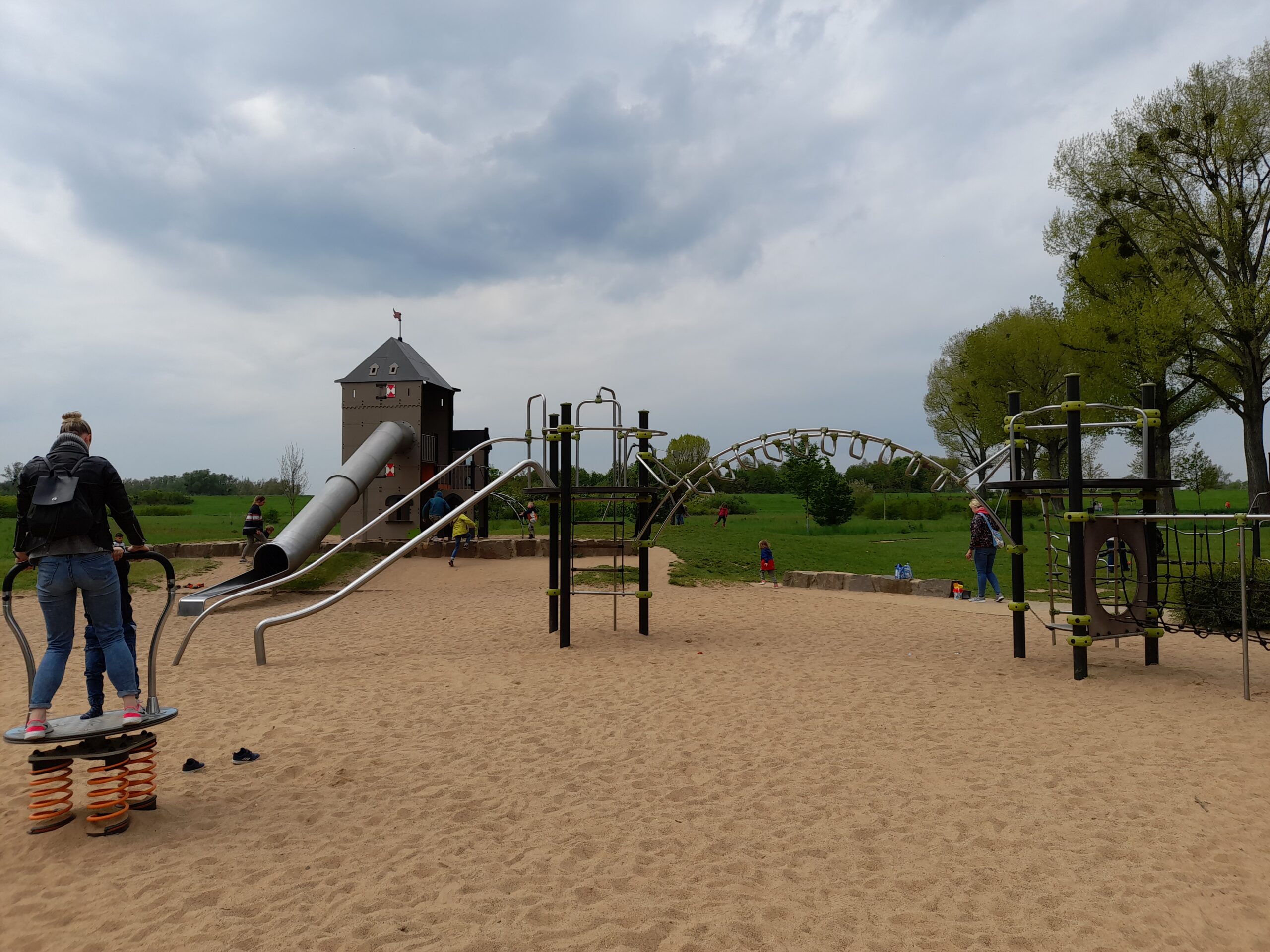 2. Water Park: The splash park had two movable, yellow water guns to splash a mate with, next to several fountains of different sizes that went on and off at certain intervals. There was also a little brook to wade through for the children. Good that we always have clothes for a change with us — you know it doesn't work too well if you tell a kid, "don't get yourself too wet; just walk into the water with your feet" 😉
3. Riding Go-Karts: One of the main attractions is the go-kart rental place. It costs EUR 12.00 for half an hour for a single go-kart, and in half an hour, one has just enough time to get to the famous tree swing and back. On the way, one sees rapeseed fields, horses and donkeys, vast, green meadows, and lots of trees with mistletoes! On the four-seat go-kart, the steering wheels are so difficult to turn that the person sitting next to the driver has to operate the handbrake, because it is impossible to steer and brake at the same time — and that's a must, because it goes downhill on steep paths a few times!!
I was surprised at Lyons Cub's perseverance, as one breaks out in sweat pretty soon from pedaling so hard 😉 He seemed to drive uphill without any trouble. Ahaha, I guess I have a good excuse, as a mom over 40!
4. The Big Tree Swing: Before we drove to this park, I had checked the Google reviews, where I also came across the tree swing. I didn't think it would be so easy to find. Just a short go-kart ride, and there it is. A giant, ancient tree with a thick bark and lots of mistletoes. Amazing! You have to hug it. Alas, the swing is so high and so wide that the children were pretty scared and clutched the cords when they sat on it together, spaced far apart. Their feet couldn't reach the ground. It's rather fun for adults. But then, it's more of a photo op than for real swinging, anyway. Now, we can say: been there, done that 🙂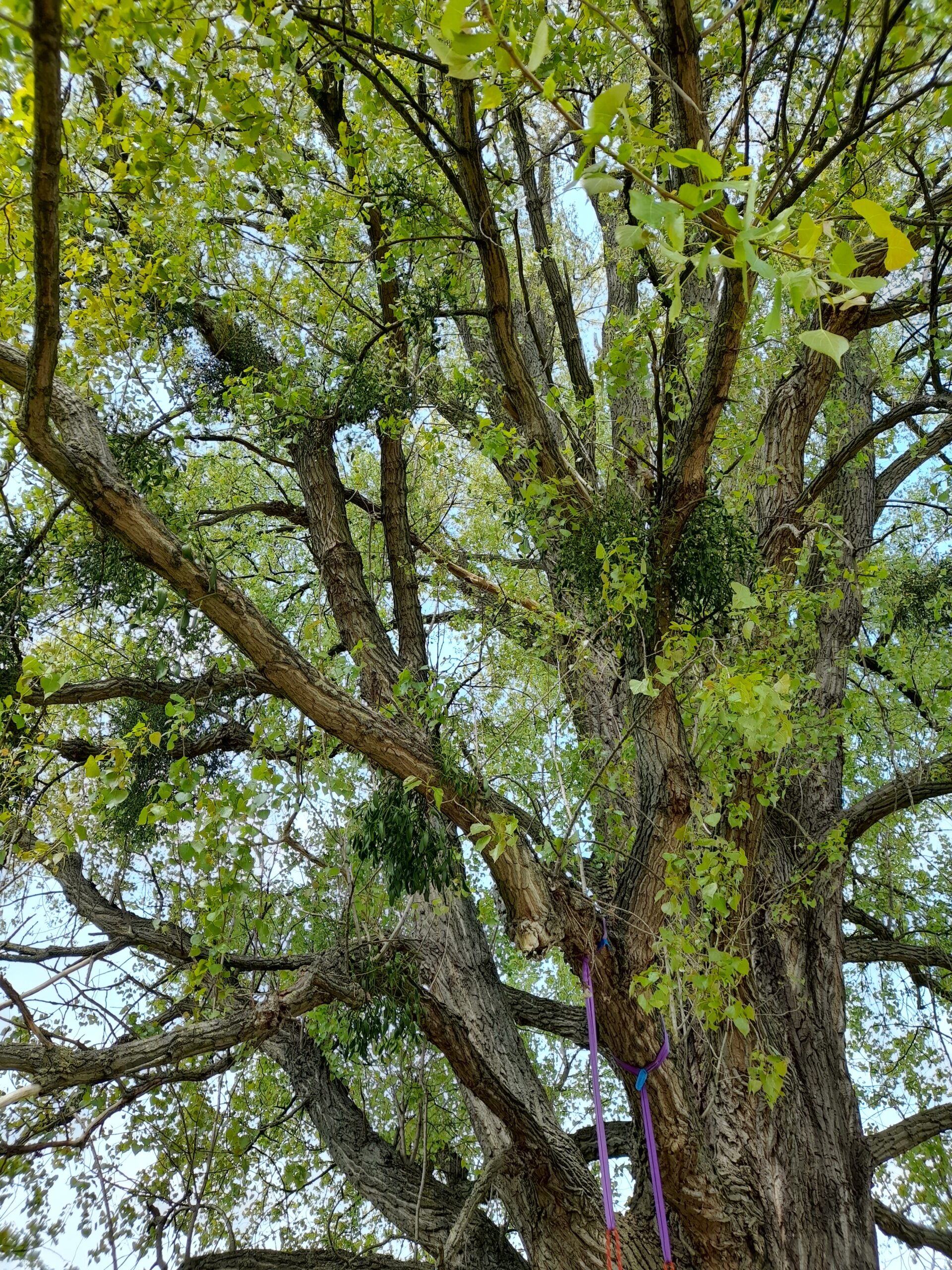 5. Fun Fair: This wasn't planned and doesn't belong to the nature trail, but when there's a fair, why not go… would be a waste! Grandma admired Lyons Cub's jumping on the trampoline. We also rode go-karts but were hit by other drivers, because the place was overcrowded. Of course, he went on the merry-go-round (and would have loved to go on the ones for the big kids and adults, but he's not old enough for those yet. In a few years…).
6) Stolpersteine: We came across them on our way back to the car. The so-called "stumbling stones" are metal name tags inserted in the ground before houses where Jewish people used to live before WWII, who were either deported and killed by the Nazis or who managed to flee, for example to Israel or the United States. It's a project by the artist Gunter Demnig, who started it in 1996. They don't just exist in Germany, but also in 26 other countries. In 2020, there were over 75,000 of these stumbling stones in German cities alone. I read to my son who lived here and what happened to those people. His daddy was Jewish, too, and his grandparents had lost their relatives from Lithuania and Russia who did not emigrate to the United States in concentration camps.
My son was really interested what happened to "Felix" and was happy to hear that he had been successful in fleeing from Germany to Palestine with his family. The people whose stones pictured below were polished and golden survived the Holocaust; the people whose stones were darker did not. I don't know who did that, and whether this is a custom to do. May their memory be a blessing.
That's all we did in Monheim, but there are many more things to do. For example, there's an exciting indoor pool that we've already tried out:
But that's another story…