Last Sunday, Lyons Cub showed his friend John from Virginia the Cologne cathedral, and this Sunday, we took him to the city of Oberhausen to climb the Gasometer and see the exhibit, "The Fragile Paradise." What's the Gasometer? First of all, it looks like a huge, rusty oil barrel. It was first used in 1929 after a two-year building process as a storage space for blast furnace gas, a waste product of the nearby blast furnaces, which was to be used in the industrial plants of the region. Later, the Gasometer also stored coke-oven gas, an energetically more valuable gas.
The Gasometer is 117,5m high and 67.6m wide and has a storage volume of 347,000 cubic meters and a floor space of 7,000 square meters. The tower (which we would ascend by means of an elevator and some flights of stairs) has 592 steps.
For more than a century, the Ruhr river area in Germany was the center of coal mining and heavy industry. The Gasometer was used as gas storage place for about 60 years. It was built according to a principle developed by the company MAN Gustavsburg in 1915: The gas was blown into the inside of the tower from below and taken out at a different place. The 24-corner floor space has double-T beams, between which 8.80-meter long and 0.81-meter high and 5 millimeter thick metal sheets were riveted. They sealed the Gasometer, so no gas could escape and secured its stability. On top of the gas swam a gas pressure disk, which weighed 1,207 tons. When the Gasometer was completely filled, the disk reached a height of 95 meters. The disk was airtight due to an oil-tar mixture, which constantly ran down the walls of the Gasometer. It was collected at the ground floor, cleaned of dirt and condensation and pumped back up. The dried residue still covers the inner walls of the Gasometer today.
The Gasometer was shut down in 1988. Since 1993/1994, the Gasometer has been an exhibition hall, and from 2019-2021, it saw major renovations. In the past 27 years, it hosted 17 exhibits for more than eight million visitors. It is a symbol of the living change of the region and a crucial site of the industrial culture route of the Ruhr river area, the so-called "cathedral of industrial culture."
"The Fragile Paradise" contained beautiful, often prize-winning photography about volcanic eruptions, flooding, forest fires, melting glaciers, drought, hunger, poaching, and other threats to nature and life from humans and catastrophic events. However, there were also beautiful images of animals as well as fossils, dinosaur eggs, and the skeleton of a huge crocodile.
These breathtaking images really made you ponder how the humans have destroyed and are still destroying our blue planet by causing climate change, deforestation, and all the other calamities due to industrialization and pollution.
The absolute highlight of the exhibit was when one ascended a flight of stairs on the third level (I think; I lost track of how many stairs we went up at some point ;)) and saw a gigantic globe onto which high-resolution satellite images were projected. One could see the change of seasons, the switch from day to night, clouds, rivers, ocean currents, temperature changes, and even air traffic. And the best thing ever, one could rest in giant, black bean bags and just stare at the wonder of the Earth while sitting on the steps of what looked like a crater lake amphitheater:
We admired the plane routes, the shifting ice,
the currents
and what I thought might be ship routes (could also be planes again):
Hot air rises… the higher we got, the stuffier it got, until everyone was sweating. Lyons Club kept nagging that he wanted to take the elevator to the top. The big bean bags in the amphitheater-like hall were so comfy and we adults would have loved just to sit there a little longer, rest our feet, and gaze at the globe, but we finally fulfilled his wish and ascended to the top:
It was hot, and as soon as we got out of the elevator, we really enjoyed the fresh, warm May air and made it to the platform on the roof, where we were awarded with a splendid view: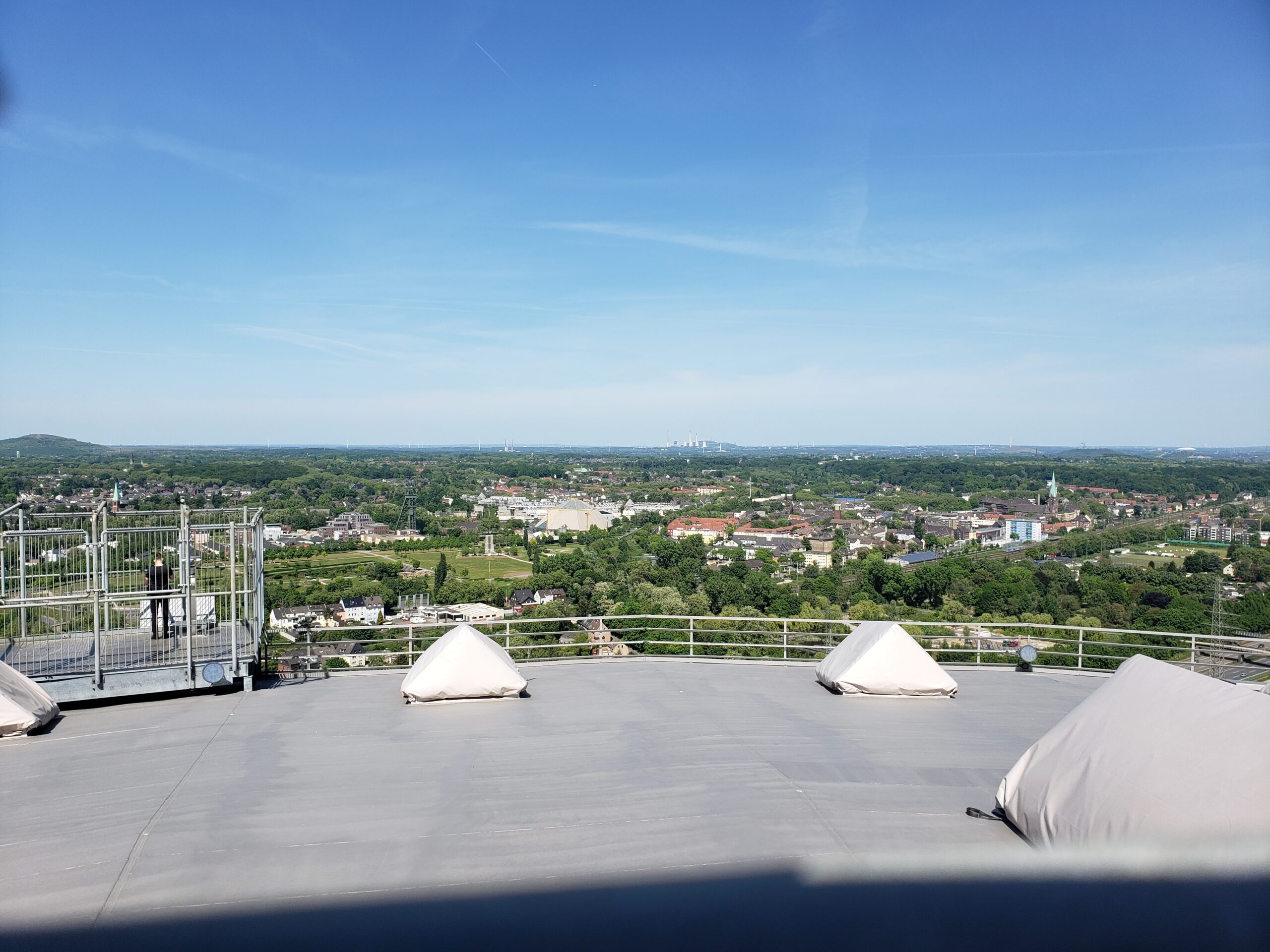 This concluded our trip to Oberhausen. Our American friend will travel to Paris next week and climb the Eiffel tower. While the Gasometer is not comparable to that, it is also worth a visit, and if you are a fan of industrial culture (or simply enjoy art and photo exhibits), we recommend you visit if you plan a trip to the western part of Germany. If you have a fear of heights, definitely stay on the inside of the Gasometer! 😉