Lyons Cub really wanted to go on a ship. So the day came where he would experience making a panorama trip on the Rhine river at Cologne. But that wasn't all. He also visited the Chocolate museum and got free samples and to try from the chocolate fountain, and he went into St. Martin's church, even down to its crypt; he also went inside Cologne cathedral and lit a candle for daddy. Plus, he got a nice tan!
We arrived early in the morning after having picked up our friend John, who works with mommy; he's also an American, but from Virginia, not from Tennessee. We parked in a parking garage near the Heumarkt (Hay market) and walked over to the Rhine river, waiting until 10:30 a.m. when the boat MS Willi Ostermann was supposed to arrive. What an excitement when it was finally there! Lyons Cub was the first person to board.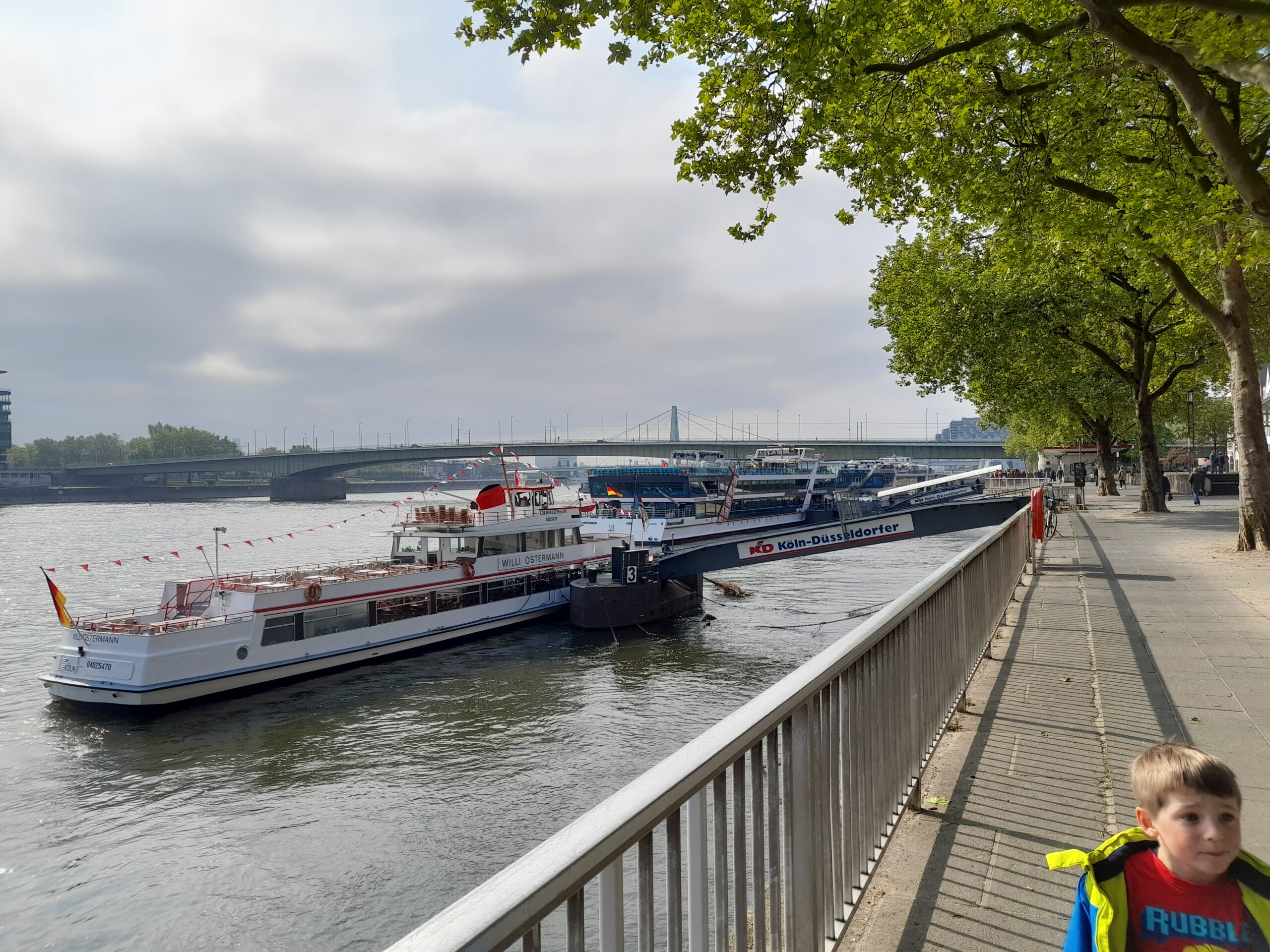 The server came, and Lyons Cub got a twister ice-cream while we were waiting for the boat to leave the shore. Suddenly, we heard the engine roar, the water bubbled, and off we went, seeing the beautiful skyline from Cologne with the cathedral, St. Martin's church, the gondolas, and the Ferris wheel.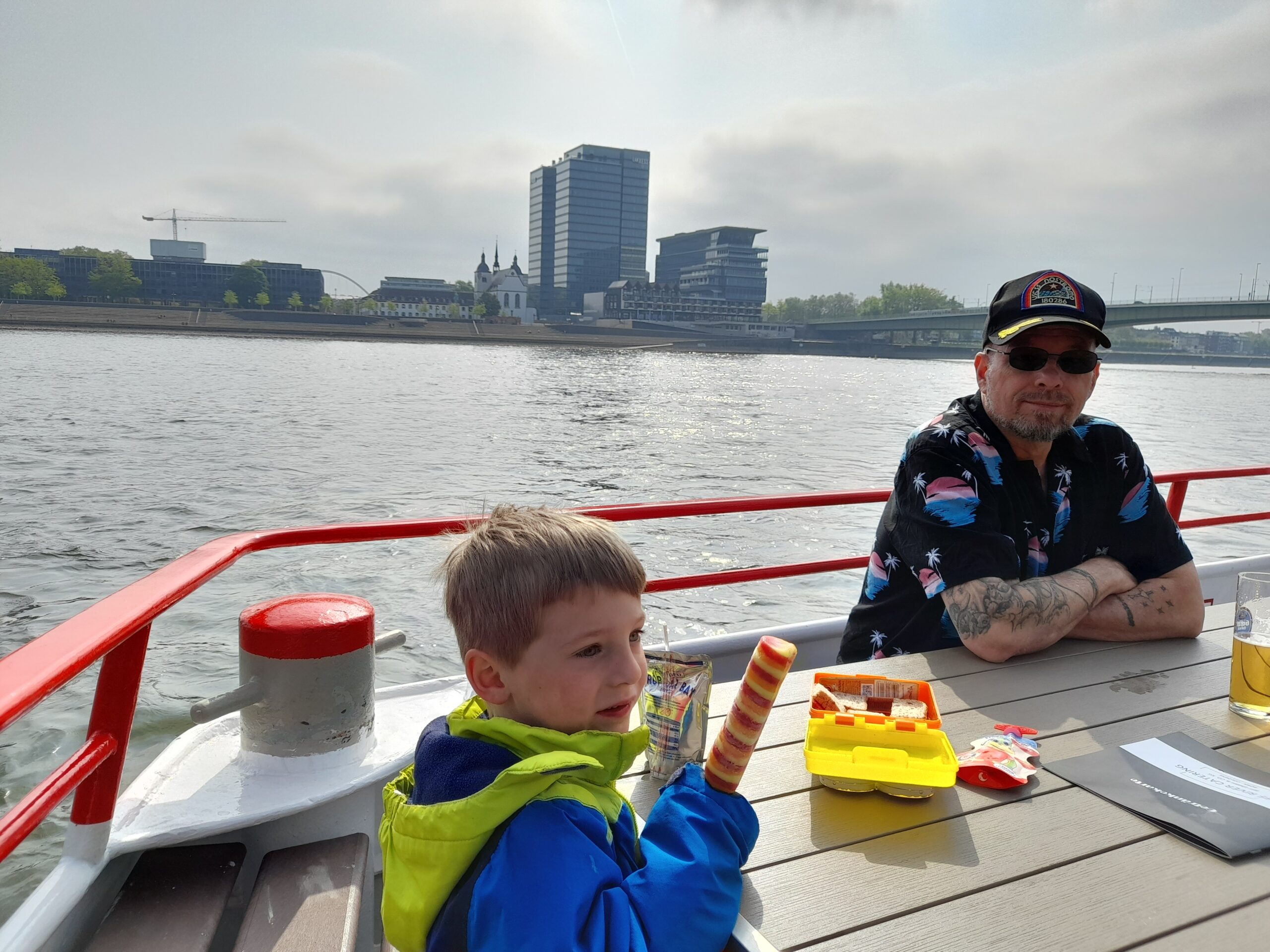 We admired the "Kranhäuser," crane houses, made of glass and with strange statics (looking like an upside-down letter "L"), because they were hanging over the Rhine river. How fun it must be to ride the transparent glass elevator all the way up!! They were finished in 2006 and reminiscent of the cranes loading the boats. Here's our video of the Kranhäuser along the Rhine River in Cologne.
There were so many things to see, and the skyline was beautiful!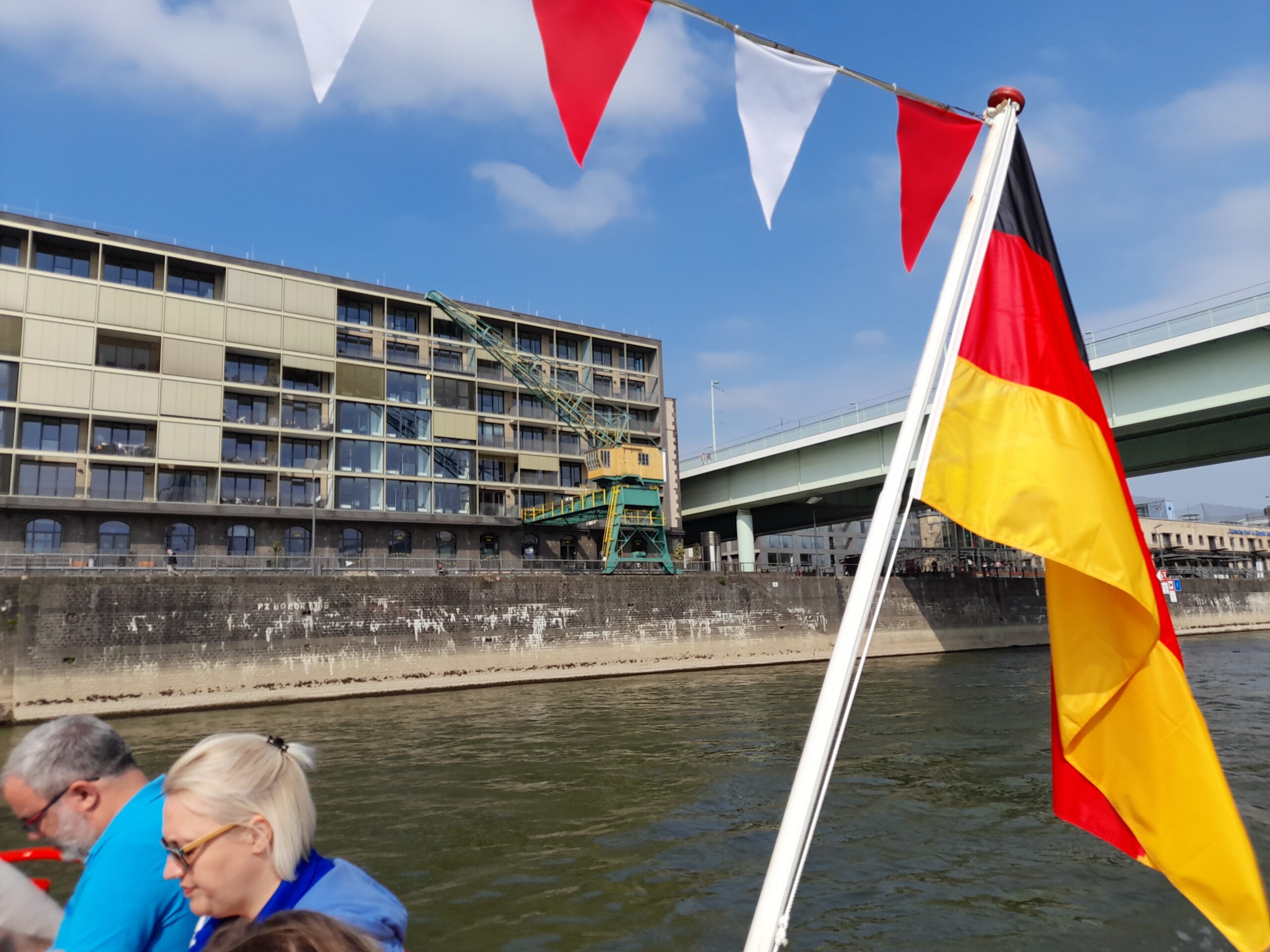 Here's the Chocolate museum, which we would visit later in the day:
After our boat tour, we went to a restaurant for a quick lunch,
and then, we set off to visit St. Martin's church:
In St. Martin's church, we saw many stone masons' marks on huge blocks of stone. By their marks, the masons recognized their works.
I told John that I wrote my dissertation about the Freemasons in 2003 and took lots of photos of European stone masons' marks, for example in St. Stephen's cathedral in Vienna. I doubt he'll ever read it, though; it's well over 800 pages 😉 If you're interested in secret signs, words, and steps of the Craft, their history and their "universal language," please buy my book and support my child's travels this way 😉
There's a "church under the church," because in the crypt (which costs EUR 1.00 to descend to), we saw huge blocks of rocks, columns, and the walls of a former church buried underneath:
We left St. Martin's church and walked through tiny alleys over cobble stone, admiring narrow, colorful, ancient houses and beautiful squares: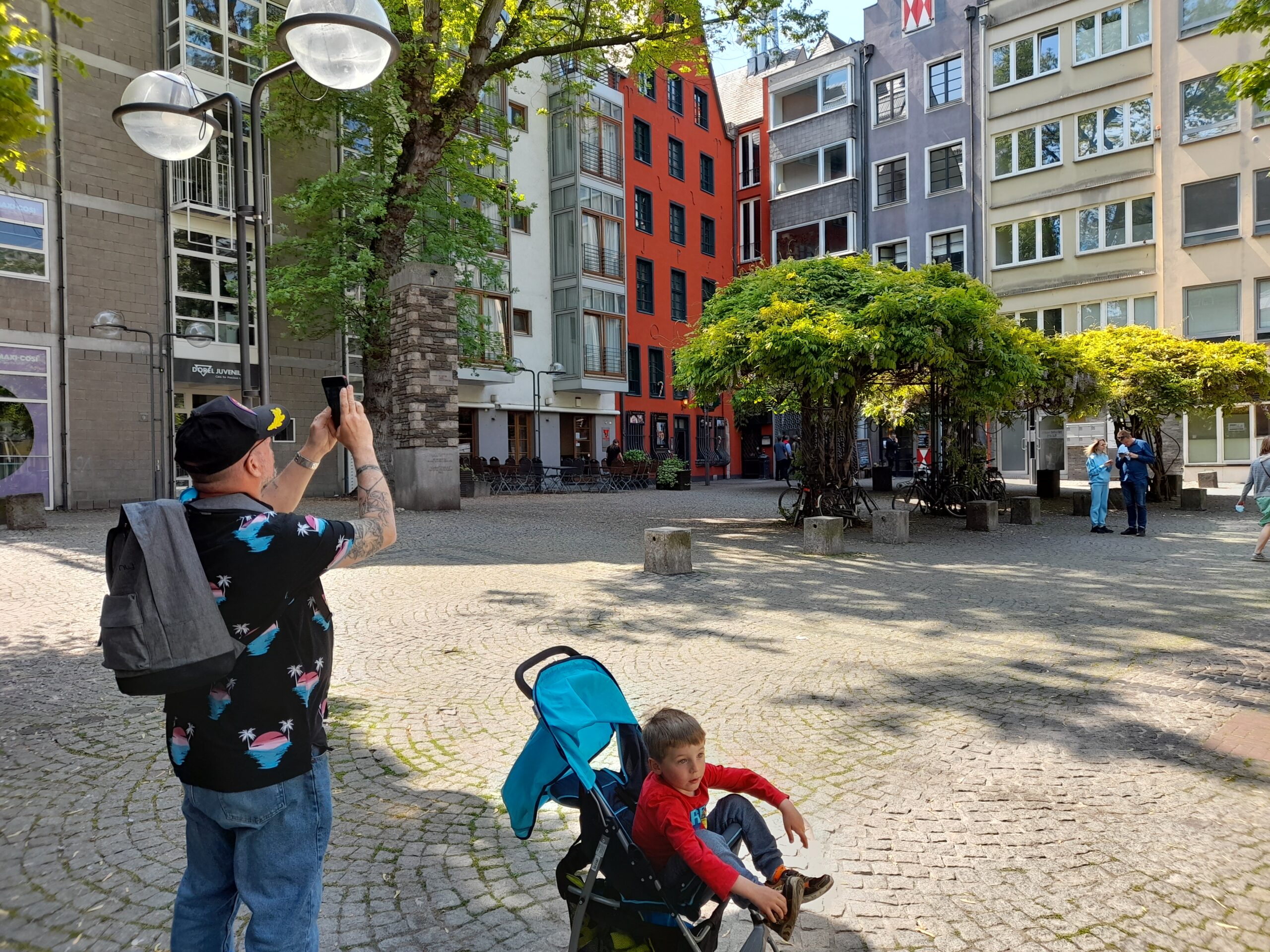 Our next step was the Cologne cathedral:
A figurine of St. Mary and her child wore so many necklaces, rings, bracelets, and jewels that pious people of centuries ago brought to her to pray for their sick that there were two additional cases to display all the gold and precious stones, because they didn't fit on her white dress anymore:
At its entrance, there's a lion well spewing water:
On the windy square in front of Cologne cathedral was a street painter, drawing the colorful flags of different countries on the ground with chalk. The pedestrians passing him threw coins on the flags of their countries, but most coins landed on the blue and yellow heart of the Ukraine.
We walked over to the Chocolate museum in the hot May sun.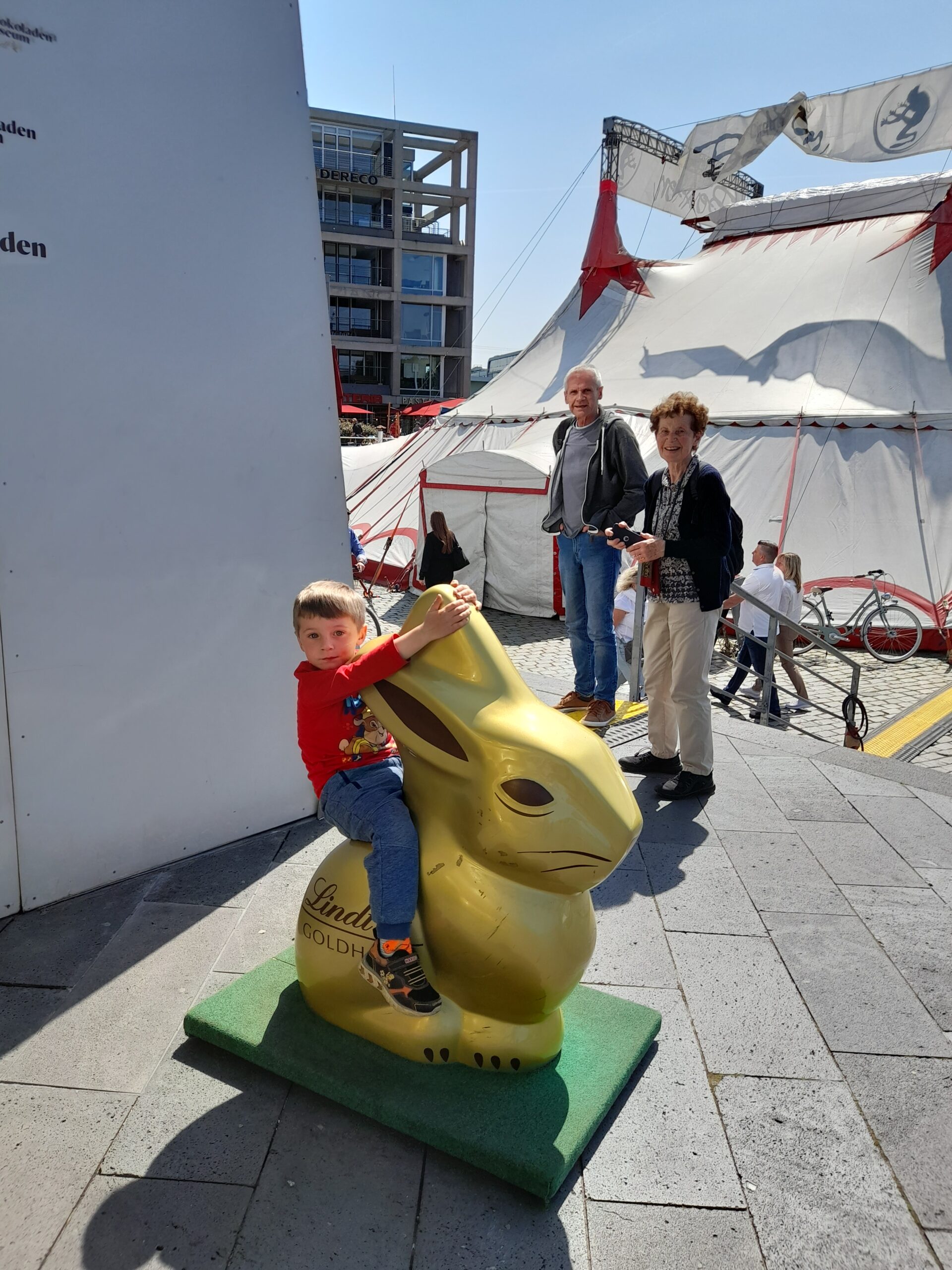 You can reach everything by foot; it only takes a few minutes. Two Lindt chocolate bunnies greeted us at the entrance. We learned about the history of chocolate, the harvest and transport of cocoa beans, the ingredients of chocolate, the annual consumption of different countries, the process of making chocolate, etc. etc.
The Chocolate factory was a great place to visit with a preschooler. We played some fun games where you had to sit on differently colored chairs and move things on a screen by moving your butt on your chair. Some other people participated, and it was hilarious!
By the way, if you press a green button at a conveyor belt, you get a free chocolate piece as a sample! The main attraction was the chocolate fountain, where a nice lady gave Lyons Cub a waffle dipped in delicious, hot milk chocolate. But the technical displays are of great interest to kids and adults alike, too:
When we had seen everything there was to see in the Chocolate museum, we were a bit tired and went to have an ice-cream and some refreshing drinks. We waited at the café, because there was a Pro-Ukraine protest march walking between us and the parking garage, the people carrying a long Ukrainian flag through the streets and chanting "Русский военный корабль, иди нахуй!", among other things.
And this concludes our eventful trip. Now that I've told you so much about what to do with preschool kids when traveling to Cologne (all for free, with no affiliate marketing), I would appreciate it if you could show your heart and donate a little bit to Ukraine. If you, dear reader, think reading my post was worth a dollar and donate a dollar to help the people of Ukraine, and a few hundred people read this post, my effort was worthwhile.