Disclosure: Some of the links below are affiliate links. This means that, at zero cost to you, I will earn an affiliate commission if you click through the link and finalize a purchase.
Lyons Cub had this one big wish for Christmas: The "green slime gorilla" from Hot Wheels! He had seen it on his Chromebook when watching YouTube videos of other kids playing with it. Those are among his favorite films at the moment, watching older kids play with advanced toys. So now he wanted one! Of course, I had planned for more educational toys for Christmas — he received a Tonie box with Tonies and a beautiful, digger-shaped Tonie shelf from an Etsy artist. He also got an extension for his existing wooden marble run, for which he is finally old enough (it was too difficult for him one year ago).
But of course, he got his wish, too! I put it to the test — what would he love more, the big, yellow bowl extension for the marble race track or the plastic slime gorilla with the terrible sounds? The answer is in this video:
Oh well, kids…. I already know that grandma will prefer the wooden toy when coming over to play with him 😉
I have to admit I like playing with the toxic gorilla, too! It's quite loud, so make sure you don't use it during someone's naptime….
We switched the sound of the gorilla off. My son said himself that he doesn't need that. But he has great fun knocking over the gorilla with his cars, whether they hit him in the head or fly directly into his gaping, neon green mouth. (I wouldn't have liked that as a kid; I was more the Playmobil, LEGO, and Barbie lover). But I'm glad he's so happy!
Here, he is unpacking his Christmas present: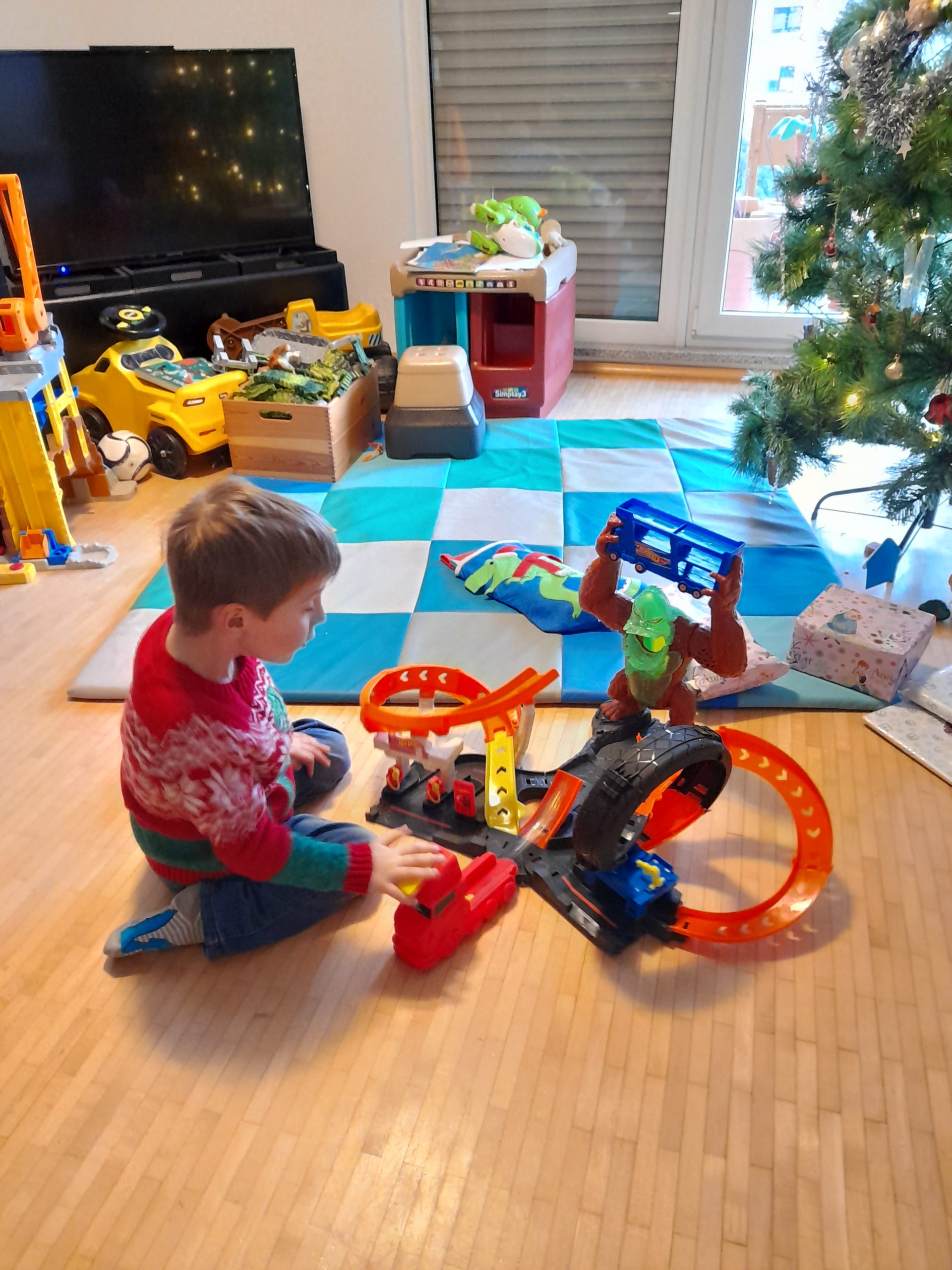 Besides, Lyons Cub owns only four "real" Hot Wheels cars. The others are cheepo diecast race cars you can buy in bulk. They fit the Hot Wheels race track, too! As long as your child is too young to distinguish between them and the real thing, you can save some bucks. My son already had a plastic race track he got from a flea market in Clarksville, TN, so we just used the old cars he already had lying around in a big box.
And here, you can see the "green slime gorilla" in action! (It actually comes without slime, but we're going to buy some in the coming days, to add to the fun.)
As hard as we tried, we could only shoot the cars into the gorilla's mouth by using the middle way. The red train can be moved in three settings: To the right, the middle, and the left. The right leads the car into the black loop, and from there, it comes out either through the front (the garage / repair place) or shoots through the room. The left path leads into the orange loop, and the car comes out at the gas station or somewhere near you. The middle path aims right at the gorilla's mouth, and he will swallow it while slamming his arms down, which hold a blue bus that you can stuff with Hot Wheels cars. Just make sure there's no kiddo sitting right in the place where the cars are going to shoot out! (Especially, right behind the green slime gorilla!!) You can see Lyons Cub's nativity scene behind his Hot Wheels Slam; well, it got knocked over by the end of the game…
Little tip: If you have heavy furniture where cars could vanish under, cover their front with pillows or something alike, so you don't have to crawl around, searching for Hot Wheels cars like this mommy! 😉