Disclosure: Some of the links below are affiliate links. This means that, at zero cost to you, I will earn an affiliate commission if you click through the link and finalize a purchase.
This birthday gift has been an instant hit with Lyons Cub. I don't care so much about the music and voice parts, but he loves lifting up the boulder with the "chomp chomp," letting it fall through the hole, roll down the slide, fall through another hole and land in the back of a truck, just to repeat the whole process again. A Caucasian boy worker and an Asian girl worker work together lifting the boulders. The Fisher-Price Little People Work Together Construction Site Playset contains a walkie-talkie that activates lights, sounds and educational phrases. It's all set up for team work.
The phrases are like, "You're doing a great job! Keep Going!" – "Little People construction will get the job done!" – "The crane picks up the boulder, it falls into the truck, then rides up in the elevator, right up to the top. There it goes rolling on down, riding up; then the job is done!" – "I'll drop it!" "Then, I'll fill it." "I will move it." "Then, we'll build it." "We can do it better when we work together!"
Since it's quite expensive, 80 bucks, it's for a bigger celebration, like a birthday or Christmas, but I'm sure it will last many years and interest a child up to six years or so. It's perfect for several kids playing with it together. A similar set, just tuned down a bit, Fisher-Price Little People Load Up 'n Learn Construction Site, is available for thirty bucks, by the way.
The set comes with three boulders. That's good, because one would get lost too quickly, as they roll fast through the living-room! The red dump truck can be used separately and has a seat for one Little People figurine.
This construction site playset has easy to grasp components and lets children explore a work process together. The songs will lead them to lift the bolder and follow steps in a certain order. They also have fun playing on their own, without following directions. Lyons Cub loves letting the boy worker slide down the ramp, for example.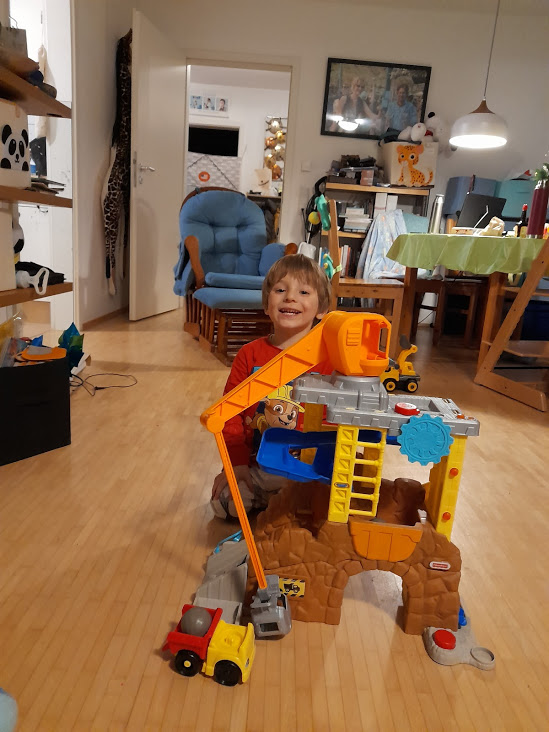 Shhhh…. and there's a secret that's not mentioned in the product description when you buy this toy: When your tot turns it around, there is a dinosaur skeleton enclosed in the brown part, and if your kid takes some flattened playdough, he or she can make a cool impression! Just a little extra to get a kick out of. Fisher-Price has never disappointed us so far.